Secret Abu Dhabi lab with 3 tonnes of 'Niswar'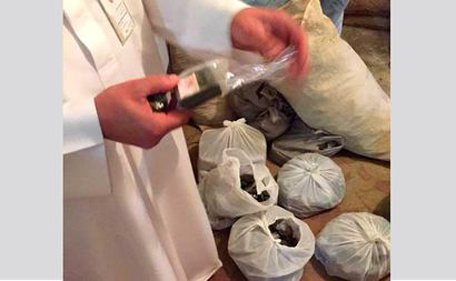 Abu Dhabi City Municipality, in cooperation with Abu Dhabi Police and Abu Dhabi Prosecution, have confiscated huge quantities of 'Niswar' (improvised, outlawed, oral tobacco) along with processing materials weighing more than 3 tonnes found in an unlicensed secretive lab at Musaffah Industrial Area.

Khalifa Al Rumaithi, Director of Public Health, Abu Dhabi City Municipality, said, "Niswar poses a significant threat to the health of community members and causes adverse impacts to humans.

"Administering it is illegal and in breach of the Federal Law No 15/2009 regarding the combating of tobacco, and the Cabinet Decree No 24/2013 regarding the Executive Regulation of the Law, since Niswar is made from several high-hazardous chemicals such as lime."

"The plant, which was targeted by the municipal team together with Abu Dhabi Police is located in an industrial land plot teemed with several unlicensed plants and inhabited by more than 200 workers in an environment lacking minimal health stipulations, which is used as residence and Niswar processing plant.

This is not the first campaign waged by the Public Health Division, Abu Dhabi city Municipality, as it has recently carried out a crackdown on a farm at Samha exploited in producing this dangerous and toxic material," said Al Rumaithi.

Al Rumaithi added: "After monitoring the plant, the raid was made to the site, where blenders and shredders of Niswar along with raw materials of lime, cement and chemical materials detrimental to public health were found; and of course such an illegal activity undermines the public health of the community.

"Niswar causes many diseases, including oral cancer, gingivitis, gum ulcerations, high blood pressure, heart diseases and peptic ulcers to name a few, not to mention that the addict has to make excessive spitting, which distorts the civilized public appearance.

"There is a preconceived notion among a large segment of youngsters that Niswar would help smokers give up smoking.

|This is a false belief since both materials are harmful to public health, in addition to the uneasy psychological state caused by Niswar abuse, which causes nervousness, sleep disorder, constant restlessness and lack of psychological and neurological disorder."

"This operation has been taken in the context of a the strategy of the Department of Municipal Affairs together with the municipalities of Abu Dhabi eemirate aimed at safeguarding the community from all risks and nurturing a hygienic environment that contributes to protecting physical and psychological health of all community members, besides combating such alien phenomena that violate UAE social traditions and pay no respect to the health, safety and moral values of the community."

Abu Dhabi City Municipality has offered thanks and appreciation to Abu Dhabi Police and the security team supporting the campaign for the great support provided by Abu Dhabi Prosecution to bring success of this swoop, which had a positive bearing on realizing of the objectives of the operation and bringing about the positive repercussions.

Follow Emirates 24|7 on Google News.