Seized in Dubai: Gas mask to keep smoke in?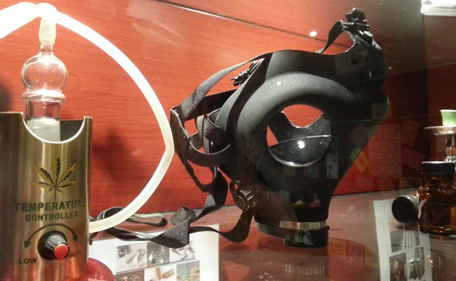 A large majority of us are aware of what the basic use of a gas mask is – to protect the user from breathing in toxic gases and airborne pollutants.

So why on earth would this particular gas mask be included amongst the rest of the confiscated items seized by Dubai Customs?




Here's a hint – the gas mask is placed next to bongs, also known as water pipes, a filtration device generally used for smoking cannabis and marijuana also known as weed or ganja.

Hassan Ibrahim, Senior Inspection Officer at Dubai Airport, explaining the case of the gas mask.

Speaking to Emirates 24|7, Hassan Ibrahim, Senior Inspection Officer at Dubai Airport said that a passenger was checked by their inspection officers and the luggage search led them to this gas mask along with the illegal drugs.

He explained that with the presence of weed in the passenger's possession, the gas mask was used to inhale the fumes.

The situation left the officers and inspectors perplexed.

Hassan said: "It was one of the strangest cases we came across. When you smoke, it negatively affects your health, and causes damage to the brain, but this passenger was intentionally trying to get the entire weed smoke into his system using this gas mask, he didn't want even a tiny bit of smoke to escape from him."

The expert Dubai Customs team come face-to-face with illegal drugs on a daily basis, as they meet hundreds of thousands of visitors arriving at one of the world's busiest airport.

The inspectors are alert, vigilant and constantly updated on the latest information including the smuggling of illegal drugs.

Nearly 350 cases last year involved illegal drugs possession and smuggling by airport passengers.

Heroin, cocaine, crystal meth and the controlled drug Tramadol are the top most drugs confiscated at Dubai Airport, but inspectors do occasionally come across marijuana.

However, looking back at this particular incident involving the gas mask, Hassan quizzed as to why this certain individual would want to keep in all that smoke as it only intensifies the blockage of the lungs.

He added: "This incident was indeed strange because it makes you wonder – how far would you go for drugs?"
Follow Emirates 24|7 on Google News.