Severe sand storm hits Dubai and Northern Emirates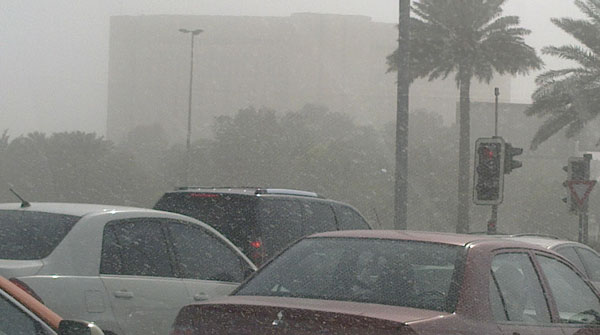 A severe thunderstorm struck several parts of Dubai and the Northern Emirates this afternoon causing low visibility and traffic disruption.
UAE's National Centre for Meteorology and Seismology (NCMS) had earlier warned of blowing dust over open land areas.
Some residents living close to the Dubai and Sharjah corniche said dust from the pavement rose upto the 12th floor of their buildings.
"It started with a mild breeze and really picked up intensity at around 1.30pm. The storm was so strong that plastic covers and dust from the street landed on my balcony on the fifth floor," said Johny KC – a resident of Al Nahda.
Meanwhile, several hoardings on the Corniche Road leading to Bur Dubai were destroyed. The storm had blown away some scaffoldings as well.
Traffic on several roads in Dubai came to a halt. Rain was also reported some parts of Dubai and Sharjah.
The Met department had already predicted light showers on the weekend across the Northern Emirates, including Dubai.
According to NCMS the amount of clouds was expected to increase by afternoon and evening over islands and some northern areas, with a weak chance of light rain at times. "Light to moderate winds in general, freshening at times causing blowing dust over the open land areas. Sea is slight to moderate. The relative humidity is likely to increase during night and early morning over the coastal and internal areas," the forecast for Friday said.
According to a spokesperson for the Met department, the forecast is the same for Friday Saturday and Sunday.
The minimum temperate on Friday is expected to go as low as 12 centigrade in internal areas and 17 in coastal areas.
Earlier this week South West Asia received showers as moisture corridor from Africa and an area of upper air low pressure enhanced the rain clouds formation, according to Meteo.ae.
Among the countries that have been receiving light thunderstorm are Iraq, Iran, Saudi Arabia, Kuwait, Bahrain, Qatar and the UAE.
On Wednesday, Jeddah in Saudi Arabia received heavy rainfall with thunderstorms measuring about 111mm in three hours bringing life to a near standstill.
Follow Emirates 24|7 on Google News.