Shake your mobile and save Dh2,000: ENBD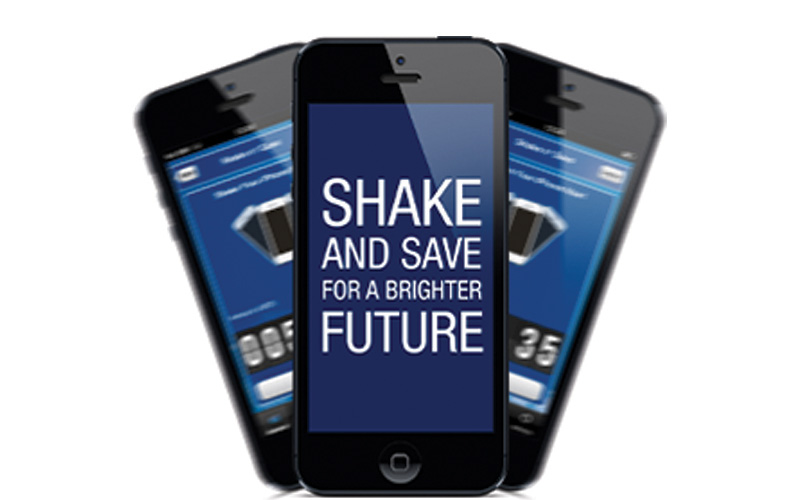 Emirates NBD on Tuesday launched a savings product called 'Shake n' Save,' which allows customers to save between Dh50 and Dh2,000 by simply shaking their mobile device.
The mobile savings account - the first of its kind in the region - encourages customers to save small amounts of money, by making it easier to access through mobile devices.
"Emirates NBD is continuously on the lookout for ways to offer customers an enhanced banking experience through launching value added services in the digital banking space," said Suvo Sarkar, General Manager – Retail Banking, Emirates NBD.
"'Shake n' Save' is a significant initiative in Emirates NBD's on-going strategy to encourage customer migration to digital banking through greater use of mobile and online banking channels. It is also the first example of a combination of popular technology trends, gamification and financial services, positioning Emirates NBD at the forefront of banking innovation."
"With this product, we are offering our Mobile Banking Customers an innovative opportunity to save money while having some fun at the same time. This is also in line with the m-Government initiative announced by His Highness Sheikh Mohammed bin Rashid Al Maktoum, Vice President and Prime Minister of the UAE and Ruler of Dubai, last year, to create and develop new mobile services in the UAE," he added.
According to recent figures from Google's Mobile Planet, the UAE has the world's highest smartphone penetration rate in the first quarter of 2013, at 73.8 per cent, higher than South Korea, Saudi Arabia and Singapore. Mobile internet usage penetration is also high at 73 per cent compared to Mena and global figures at 41 per cent and 51 per cent, respectively.
With Emirates NBD digital banking transactions showing a strong growth, the bank sees a huge potential to offer customers an exclusive value-added savings product that is easily accessible through a mobile banking application. This product also fills a customer need through providing an opportunity for impulse saving as opposed to spending. According to the UAE Central Bank, the average resident in the UAE has no more than Dh10,000 in savings, and Emirates NBD hopes to tackle this phenomenon by making saving easier with the new 'Shake n' Save' product.
"In a country where large disposable incomes and access to luxurious lifestyles are the norm, savings habits fall well below the global average," said Pedro Cardoso, Head of Multichannel & Customer Relationship Management, Emirates NBD. "With this mobile banking product, which is the first of its kind in the region, young, financially independent people across the Emirates have access to an extremely flexible and hassle free method, where they can save money on the go. At Emirates NBD we want to change the way people view saving, and in a society which almost encourages impulse spending, we want to replace the thrill of spending with the thrill of saving."
"Now, customers can instantly open their 'Shake n' Save' account just by using a mobile device and define their savings range preference. After that all they need to do is to shake their mobile device to save money and benefit from the special rates we offer," he added.
Emirates NBD's mobile banking customers can download the Emirates NBD Mobile Banking App to set up the 'Shake n' Save' account and also pre-set a range between Dh50 and Dh2,000 as their own regular saving span. By shaking their mobile device, the app will generate a random figure within the desired range, which can be immediately transferred from a standard debit account to the 'Shake n' Save' account. Customers have access to unlimited 'shakes' per day and can shake to get a new amount as desired. 'Shake n' Save' is available for iPhone, iPad, Android and Blackberry10 users.
Interest is calculated on a daily basis, based on closing balances, and customers will earn 2 per cent per annum on any amount up to Dh100,000. There is no cheque book or debit card linked to this account and customers cannot make transactions, partner payments or remittances from this account.
Follow Emirates 24|7 on Google News.