Sharjah Airport to implement new rules to facilitate baggage delivery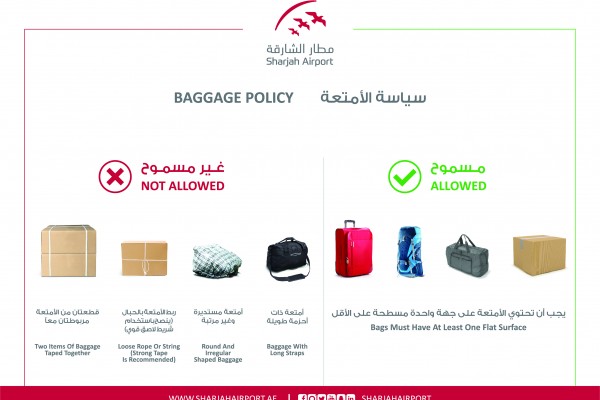 Sharjah Airport Authority announced the implementation of new baggage rules at Sharjah Airport from the 4th of December. The new rules, which will include luggage specifications, will boost operational performance, reduce improper baggage handling and enhance the airport's competitiveness in the region.
The Sharjah Airport notified the representatives of all airlines operating at the Airport about the new policy, and informed them that the airport will not receive or handle any baggage that does not comply with its new policy, noting that more information about the new rules will be posted on its official website.
As per the new baggage policy, the Airport will not accept bags that might disrupt the systems. Bags should be 75 cm high, 60 cm wide and 90 cm long with at least one level surface. Non-compliant baggage, such as two items wrapped together, will not be accepted at the arrival point, either directly or through Sharjah Aviation Services.
Baggage that exceeds these specifications can be taken to the desk for oversized baggage. It will be processed based on the airline's weight allowance and on prior arrangements with Sharjah Aviation Services.
In conjunction with the launch of its new identity, Sharjah Airport aims to boost service efficiency including baggage transport services, which are key to improving the competitiveness of Sharjah Airport and of the airlines that operate there, encouraging passenger loyalty, and enhancing Sharjah's role as an important hub in the aviation industry.
Follow Emirates 24|7 on Google News.