Sharjah allows UAE expats to buy apartments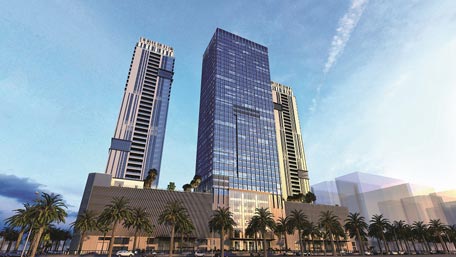 Non- Gulf Cooperation Council (GCC) expatriates with valid UAE resident visa can now buy apartments in Sharjah's Al Rayyan development on leasehold basis.
"This is the first time that non-GCC expatriates, but with a residence visa, can own a property in our tower, which is located in Al Nadha district, on a leasehold basis," Randa Kamal, Chief Executive Officer, JMS Property Development & Management, told Emirates24|7.
The Dh700-million Al Rayyan development comprises two residential towers with 504 dwellings, a commercial tower that will also include served apartment options, and a retail complex housing 80 to 90 shops and a hypermarket.
In September 2014, another Sharjah-based developer had told this website that Arab nationalities could buy a maximum of five apartments, but there was no restrictions for GCC nationals.
According to Cluttons, the sales and marketing agents for Al Rayyan project, prices for one-beds to four-bed penthouses, ranged between Dh750,000 and Dh4.5 million. The maintenance fee is set at Dh12 per square feet for residential tower, while the commercial fee is kept at Dh10 per square feet. Buyers will have to pay in addition chiller charges, which will be based on consumption.
Asked for the years the lease for apartments would be valid, Steve Morgan, Chief Executive Officer, Cluttons Middle East, said the Sharjah government decree had been issued recently and they were expecting clarification on the leasehold definition in the coming days.
The expected return on investment is between 7 and 9 per cent, the Cluttons official said, referring to a rental growth of 53 per cent since 2012 with a 23 per cent rental increase registered in the first nine months of 2014.
The consultancy, which manages 3,000 properties in the emirate, valued at Dh10 billion, has also been involved selling land plots to foreigners holding UAE residence visa in the Dh2-billion Tilal City on 100 years lease basis.
JMS CEO revealed the project was unlikely to face a delay as the Sharjah Electricity and Water Authority had assured power and water connectivity.
Sharjah has been witnessing huge demand for properties in the renal market, post spike in rents across Dubai in the last two years, driven by a reverse migration of budget conscious families and companies leasing bulk staff accommodation.
The two residential towers will be completed by end of first quarter 2016, while completion of the commercial tower is set for end of second quarter.
Follow Emirates 24|7 on Google News.