Sharjah Girl Guides go teambuilding on Sir Bani Yas Island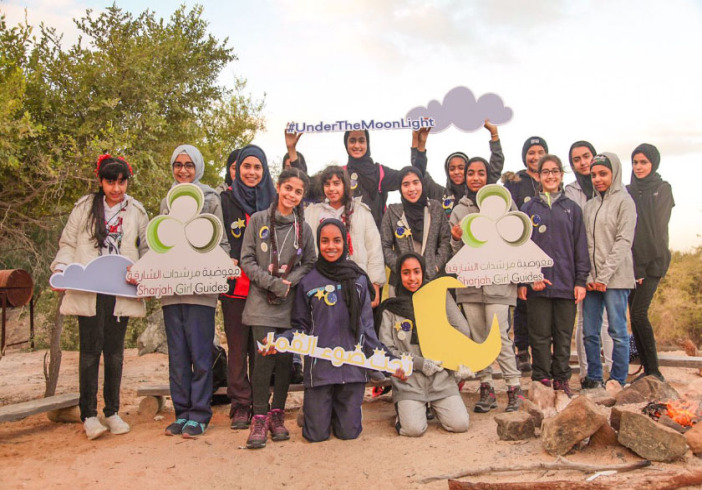 Twenty Girl Guides aged 12 to 15 years recently set off on an adventurous wildlife hiking expedition to Sir Bani Yas Island in Abu Dhabi, as part of the third edition of Sharjah Girl Guides' 'Under the Moonlight' sleepover camp.
Held under the theme, 'Discover the Wildlife of Sir Baniyas', the two-day camp featured several resistance training and teambuilding exercises.
Shaikha Abdulaziz Al Shamsi, Assistant Manager at Sharjah Girl Guides, SGG, said, "As envisioned at the conclusion of the second camp, the main focus of the third sleepover camp was to provide Guides with a chance to hone their guiding skills at a location that would provide a truly authentic camping and hiking experience, connecting the girls with their inner strength and with nature."
"As expected, this one too was a runway success, where 20 Guides were seen supporting their peers, boosting each other's morale and working as a close-knit team through the challenges and adventures posed by their camping activities and the forces of nature," she added.
During the camp, the girls set off on 10 km and 25 km hikes within the 1,400-hectar property. They also went kayaking, swimming and snorkelling.
The UAE guiding movement was first established in Sharjah in 1973, after which it spread across the Emirates, giving rise to the Girl Guides Association of the UAE in 1979. Under the patronage of H.H. Sheikha Jawaher bint Mohammed Al Qasimi, wife of H.H. the Ruler of Sharjah and Chairperson of the Supreme Council for Family Affairs, SGG aims to inspire and nurture future generations to become progressive global citizens by providing a platform for girls to develop to their fullest potential.
Follow Emirates 24|7 on Google News.