Sharjah hospital's 175 kidney patients a month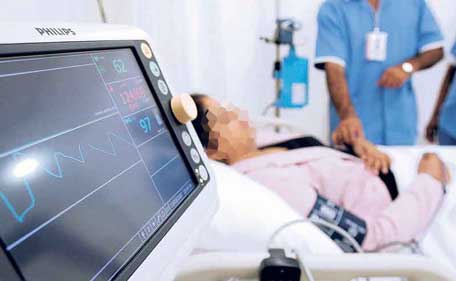 The kidney unit at Al Qassimi Hospital reveals that they receive 175 patients every month.

The hospital has received 214 new patients since the beginning of this year.

Dr Harith Muthana, at the kidney unit, said that they have more male renal failure patients than females.

"Most of the patients we receive didn't know that they have kidney failure until the last moment, that's why they should pay attention to the early sings of having a failure," said Muthana.

The six main signs that people should pay attention to are:

Oliguria - low output of urine

Burning while urinating

Swollen feet

High blood pressure

Lack of control over the sugar rate

Slenderness

"There are many causes of having a kidney failure, like diabetes, blood pressure, urinary tract infections, kidney stones and congenital malformations," the doctor added.

People should have regular checkups every 6 months and drinking fluids, and avoid painkillers and stimulant medications, the doctor added.
Follow Emirates 24|7 on Google News.