Sharjah resident weighing 168kg undergoes surgery to get fit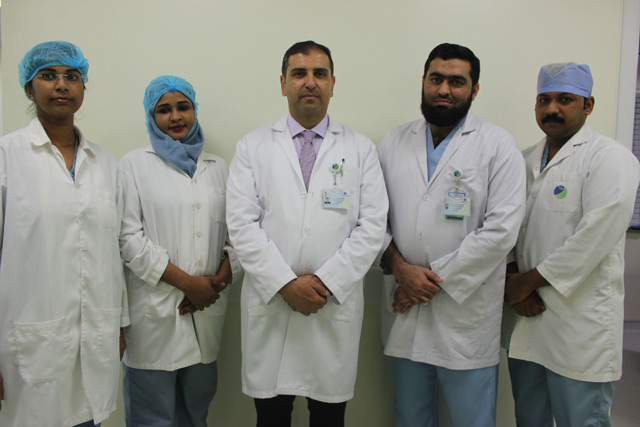 A team of surgeons from Zulekha Hospital has successfully performed a highly complex bariatric surgery on a morbidly obese Sharjah resident.
Weighing 168kg, the 31-year-old Emirati patient had been experiencing frequent abdominal pain, shortness of breath, severe joint swelling and had suffered from low self-esteem for years.
With more than 500 gastric and bariatric surgeries under his belt, Dr Mohanad Mohamad Sultan Aljanabi, Consultant General and Bariatric Surgeon at Zulekha Hospital Sharjah said: "About 25 per cent of patients who undergo this type of surgery are classified as extremely obese and with the obesity rates on rise across the UAE, we expect more individuals to be referred for this type of treatment."
The patient, who wishes to remain anonymous, was classified as morbidly obese with a body mass index (BMI) of 56.7; the recommended BMI for someone in their 30s is below 25.
Dr Aljanabi added: "Once a person gets beyond 40 BMI, diet and exercise are not effective in inducing long-term weight loss and the only way for them to reduce weight is through a surgical procedure.
"Usually, laparoscopic sleeve gastrectomy is a straightforward procedure, but in cases of morbidly obese patients it may lead to severe complications, including internal bleeding and the occurrence of blood clots and leakages."
The patient, a long-standing patron of the hospital, said it was her previous positive experience with them, which prompted her to undergo the surgery.
She said: "...I decided to undergo the surgery as Dr Aljanabi's advice motivated and convinced me about the positive effects it would have.
"For the first time in my life, I wasn't scared of the operation as the doctor was extremely approachable and friendly and explained to me in detail what the procedure would entail."
Considered one of the most effective means of reducing weight, laparoscopic sleeve gastrectomy is a minimally invasive surgery during which surgeons remove approximately 75 per cent of a patient's stomach. This leads to the loss of 80 per cent of excess weight within the following 9-12 months.
Discharged from the hospital only three days after the surgery, the patient was equipped with tailored dietary and exercise guidelines.
She added: "I have been advised by the doctor to do simple exercises, walk for half an hour every day, and consume foods that are rich in protein and vitamins. I already feel more confident after the surgery and will continue to follow the doctor's advice to maintain a healthy lifestyle."
The doctors expect an increase in such surgeries; according to recent analysis gathered through the Global Burden of Disease Study, more than 66 per cent of men and 60 per cent of women in the UAE are overweight or obese.
The hospital recently launched a 'No More Excuses' campaign, aimed at urging UAE residents to start taking responsibility for their health and wellbeing.
Follow Emirates 24|7 on Google News.