Sheikh Mohammed attends graduation of Chief Happiness and Positivity Officers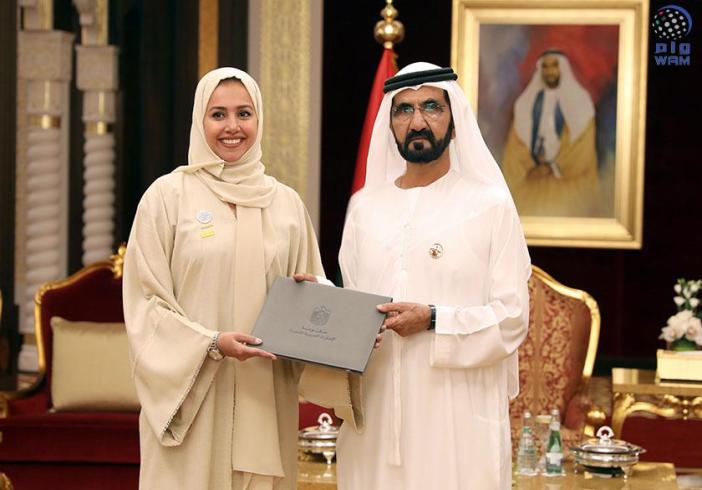 During a speech today, Vice President and Prime Minister and Ruler of Dubai, His Highness Sheikh Mohammed bin Rashid Al Maktoum, said achieving happiness and positivity through co-operation is a goal that all UAE government authorities should strive to pursue, and integrate into the lifestyle and culture of the nation's communities.
His Highness further stated that the UAE, under the leadership of President His Highness Sheikh Khalifa bin Zayed Al Nahyan, can strengthen community spirit with happiness and positivity to employ the nation's full potential, and use its resources to increase national development and the efficiency of its government work environment.
His statement came during the graduation ceremony for the first class of Chief Happiness and Positivity Officers (CHPOs) for federal and local governmental authorities.
Some 60 CHPOs qualified through a training programme, held by the National Programme for Happiness and Positivity, in co-operation with the University of California, Berkeley and Oxford University in the UK.
The graduation ceremony was attended by Sheikh Hamdan bin Rashid Al Maktoum, Deputy Ruler of Dubai and UAE Minister of Finance; Lt. General Sheikh Saif bin Zayed Al Nahyan, Deputy Prime Minister and Minister of the Interior; Sheikh Mansour bin Zayed Al Nahyan, Deputy Prime Minister and Minister of Presidential Affairs; Sheikh Abdullah bin Zayed Al Nahyan, Minister of Foreign Affairs and International Cooperation; Sheikh Nahyan bin Mubarak Al Nahyan, Minister of Culture and Knowledge Development, as well as a number of ministers and government officials from the Presidential Palace in Abu Dhabi.
"Today we celebrate the graduation of the first group of our sons, the CHPOs. This is the start that we want to build upon to continue to achieve happiness and prosperity for the people, as they deserve rapid advancement for the future of our country, while maintaining the balance between development, technology and sustainability. We care for the happiness and prosperity of the community, the nation and our people, in order to turn the UAE into an active engine and a positive influence on the world," he said.
Follow Emirates 24|7 on Google News.