Sheikh Zayed announced as 'Personality of the Year' for ADIBF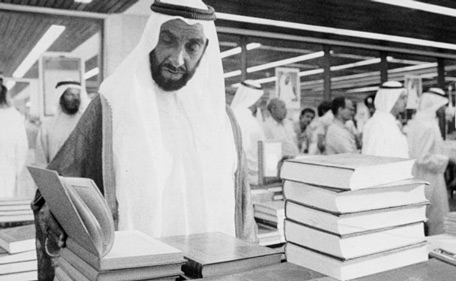 In celebration of the Year of Zayed, and in appreciation of his numerous intellectual and cultural contributions to shape a society centered on knowledge and innovation, the Department of Culture and Tourism – Abu Dhabi; DCT Abu Dhabi; today announced the selection of Sheikh Zayed bin Sultan Al Nahyan as the 'Personality of the Year' for the 28th edition of the Abu Dhabi International Book Fair, ADIBF.
The event, to be held from 25th April to 1st May, 2018, at the Abu Dhabi National Exhibition Centre, will witness the participation of a number of Arab and foreign publishing houses.
Choosing Sheikh Zayed as this edition's 'Personality of the Year' celebrates his profoundly effective role in shaping today's UAE society. Founded on the premise that educated individual is what makes a nation wealthy, rather than money, Sheikh Zayed endeavored throughout his life to sustain a balanced community by preserving traditions and heritage, while also adopting a culture of innovation, and acceptance.
The book fair will encompass a wide-ranging professional and cultural programme featuring word-class activities and symbols of thought and literature.
For its 28th edition, ADIBF will place special focus on e-publishing, digital content, e-applications, and the latest technologies in the publishing world, providing the ideal space for content developers and service providers to showcase their products and services to the publishing community.
This year's edition celebrates Poland as its Guest of Honour, providing an opportunity to explore the culture of Poland, which seeks through its participation to introduce Polish literature spanning 1,000 years. These works, authored by Polish writers over the centuries, reflect the stages of prosperity and decline in the ancient history of Poland.
Saif Saeed Ghobash, DCT Director-General, said, "Through its programme of seminars and discussions, this edition of ADIBF will reflect the extraordinary vision of the founder of the UAE, Sheikh Zayed bin Sultan Al Nahyan, to express his committed work ethic and exceptional contribution to our society. As the nation celebrates the Year of Zayed, we strive to highlight the valuable intellectual legacy of the founder of our country, and his deep belief in the strategic significance of education and culture in human development and in strengthening the country's international relations.
"It is thanks to the late Sheikh Zayed's distinctive perspective and timeless endeavors, which are still cherished and practiced to this day by President His Highness Sheikh Khalifa bin Zayed Al Nahyan, and His Highness Sheikh Mohamed bin Zayed Al Nahyan, Crown Prince of Abu Dhabi and Deputy Supreme Commander of the UAE Armed Forces, that we have transformed the UAE into a modern country and a school of thought and leadership for all," he added.
Follow Emirates 24|7 on Google News.