Sheikh Zayed Road closures today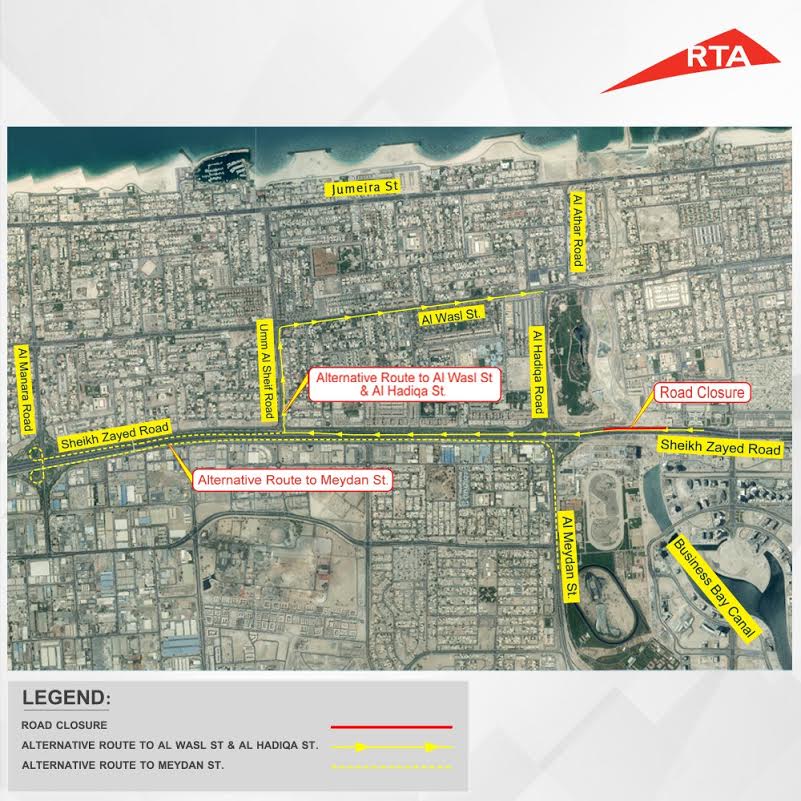 If your weekend plans include a trip down Sheikh Zayed Road, then brace yourselves for some road closures that will come into effect from midnight on Thursday.
The Roads and Transport Authority (RTA) of Dubai has announced the exit leading to Al Hadiqa Street and Al Meydan Road from Interchange 2 will remain closed until Sunday 5am, July 24.
The RTA has further stated road closure is in support of the opening of the remaining lanes on the South Bridge on Sheikh Zayed Road, heading southbound towards Abu Dhabi 'to aid a smooth flow of the traffic on this bridge'.
Drivers going towards Al Hadiqa Street can use Umm Al Sheif Road, near Interchange 3, as an alternative road.
Meanwhile, drivers going towards Al Meydan Road can use Al Manara Bridge exit on Sheikh Zayed Road.
The southern bridge was opened on July 1 as part of the initial phase of the ongoing Dubai Water Canal Project, which will see part of Sheikh Zayed Road elevated to make way for the waterway to connect from Meydan to Jumeirah Beach Road.
The RTA had only opened six lanes to traffic in the first phase of the new bridge, with the remaining two lanes scheduled to open now.
The bridge itself rises 8.5 meters above the water level allowing free navigation in the Canal around-the-clock, and will accompany the Dubai-bound E11 bridge, which opened to traffic earlier this year.
As part of the Dubai Water Canal Project, last month the RTA opened Al Wasl Road Bridge comprising three lanes in the direction of Dubai and two lanes in the direction of Abu Dhabi, in addition to two lanes serving traffic coming from Al Wasl Road heading towards Al Athaar Road.
Follow Emirates 24|7 on Google News.