Six youngsters killed in two tragic Sharjah accidents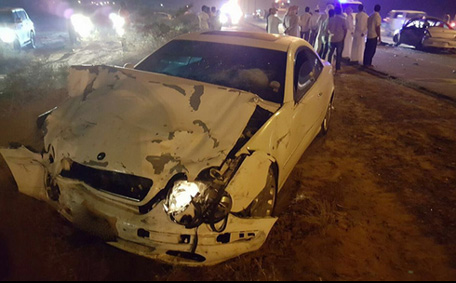 In two separate tragic accidents, six youngsters lost their lives in Sharjah over the weekend.
While, three Asian boys aged 20 and 21 were killed on Saturday on Al Dhaid–Al Madam road, three children of an Arab family, aged between 6 and 14 years, died on Friday in Al Dhaid area, reported Arabic daily 'Al Bayan'
The car in which the three boys were travelling collided with another vehicle driven by an Arab, who is seriously injured.
The accident took place at about 1.25 am on Saturday, according to Al Madam police station records.
Colonel Haran Mubark Al Jazai, Acting Police Director, of Central Region, said upon receiving information the rescue team rushed immediately to the site. The three youngsters in the first car were critically injured and died on their way to hospital. The driver of the second car is admitted to Al Dhaid hospital, he added.
Col. Al Jazai said, initial investigations reveal the driver of the car in which the youngsters were travelling entered the road before ensuring it was clear, resulting in the collision.
3 kids of a family killed
Meanwhile, in another accident, three children of a family – aged between 6 and 14 – were killed when the car they were travelling in collided with a truck on Al Dhaid-Washah area on Friday.
The children's mother and two other siblings are injured and receiving treatment.
Initial investigations reveal the truck was speeding and jumped the red signal, thereby, colliding with the car and pushing it for a distance up until the barriers in the impact of the collision.
Follow Emirates 24|7 on Google News.