Slow-moving traffic has JLT commuters in a jam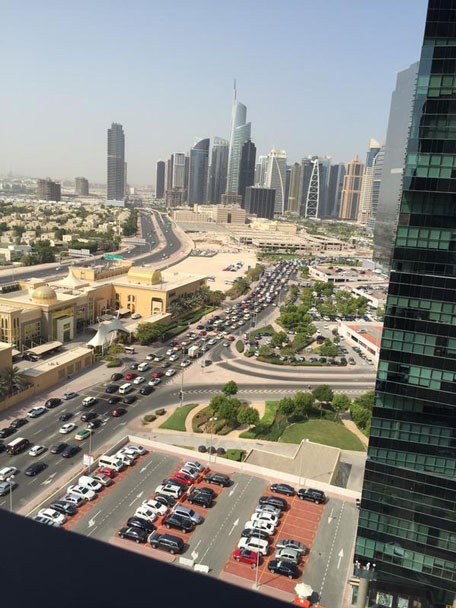 Ongoing traffic diversions in Jumeirah Lakes Towers (JLT) have caused traffic jams and significant delays for commuters to and from the community.
On August 20, the Dubai Multi Commodities Centre (DMCC) announced that the number of traffic lanes would be reduced on Road 5, or the back street of JLT.
The traffic diversion was put in place and then reversed, and eventually fully implemented on August 30, coinciding with the start of the academic year.
The diversion includes the reduction of four lanes to two, heading straight in the direction of Sheikh Zayed Road, and one lane for traffic making a left turn.
The narrowed passageway out of the community resulted in traffic gridlocks all throughout that day, with some commuters claiming to spend hours on the road during peak time.
Morning jams are reported as early as 5.30am.
On the same day at 16.40, a screenshot of a traffic app was posted by @kFakhouri, indicating that traffic queues had not disappeared just yet.
As the week progresses, jams seem to be getting a little less. "The first day it was an hour wait, the second it was 45 min. On Tuesday yesterday it was reduced to 20 minutes because I took the parking area and got out quicker," said Arsh Azim.
"I leave between 8-8.30 in the morning and it is busy but bearable," said Daniel Marcevans, another JLT resident.
"There are traffic diversions in place in JLT along Road No 5, parallel to the community park. This is causing congestion for residents in cluster Y, V and W and commuters during peak hours," said DMCC in a comment to Emirates 24|7.
"Residents and commuters are encouraged to use the First Al Khail Street from Emirates Hills during peak hours for access to all other clusters."
The master developer explained that the diversions were in place due to construction works, which are due for completion soon.
Although the initial schedule pointed towards a month period for the works to be done, residents have been informed that it could possibly be completed earlier.
The construction work includes the digging up of utility lines in the area.
For a detailed description of the traffic diversion, click here.
Follow Emirates 24|7 on Google News.