Smart Dubai launches Dubai Careers, future generation of digital recruitment platforms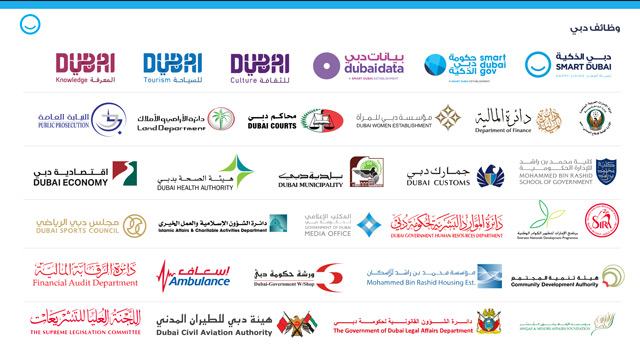 Smart Dubai Office, the body supervising Dubai's smart transformation, yesterday unveiled the Dubai Careers platform, which represents the region's smart generation of recruitment and competency management platforms, during a joint press conference held by Dubai Smart Office, Dubai Government Human Resources Department, Oracle and LinkedIn.
Dubai Careers is an innovative approach developed by Smart Dubai Government Establishment (SDG), the technology arm of Smart Dubai Initiative, to change the concept of employment in Dubai from searching for a job into finding a future career path.
The portal will enable jobseekers from the UAE and worldwide to access the job opportunities available in Dubai government entities in the first stage and in the private sector later on. This centralized platform has been designed to provide a smart mechanism for handling recruitment applications so as to be an innovative solution for attracting talents.
During the press conference held for launching the initiative, Dr. Aisha Bint Butti Bin Bishr, Director General, Dubai Smart Office, said: "In the same way Dubai Government has shifted from an electronic to smart government, I am pleased to launch today the Dubai Career platform, which represents the smart generation of Dubai Government's digital employment platforms. Through this platform we aim to promote the concept of employment to a concept where Dubai residents are enabled to avail such opportunities that will allow them to build their careers on the one hand and where Dubai Government's establishments will be able to attract the best expertise on the other. "
Dr. Aisha added: "The Dubai Careers platform is part of the government's required change in the mechanism of work of attracting talents and managing Dubai human resources to empower Dubai residents with a better career and enable the private sector in general and the government establishments in particular to play their role in implementing the Dubai 10X Initiative so as to have a platform that meets the expected needs of the world in 10 years from now.
Through the 360 integrated experience provided by the Dubai Careers platform, it is important to contribute to providing the market with such highly qualified jobseekers and tools that are aligned with the UAE centennial 2071 requirements in order for the platform to contribute to achieving the enablers mentioned by His Highness Sheikh Mohammed Bin Rashid Al Maktoum, Vice President and Prime Minister of the UAE and Ruler of Duabi, when he said:
"Future generations will need foundations and pre-set tools that we introduce today, there needs to be an environment for growth, and this is something that we should think about from now."
For his part, H.E. Wesam Lootah, CEO of SDG, said: "A smart city cannot be achieved by technology only but by people qualified to manage and operate technologies and apps. qualified people is the main pillar to fulfill the leadership's vision of seeking the smartest and happiest city in the world. Although Dubai has made great strides ahead of the most advanced cities in the world in the field of human resources management and recruitment, we are before a formidable challenge that necessitates us to be prepared for the demands of the future from today."
Lootah added: "The Dubai Careers platform will be the smart mind for managing and investing in Dubai and providing government establishments and the private sector with the best competencies in all fields. It will also serve as a tool to lever government efficiency in the field of employment and shorten the time and effort of both establishments and jobseekers alike. At the same time, the platform will provide smart tools for jobseekers to develop themselves and keep abreast of the latest updates of career competition and self-development. There is one common element that combines all the national strategies led by the government of the future and focus on human capital, who are the main title of our today's initiative: empowering people and investing in their abilities."
Ali Matar, Head of LinkedIn Talent Solutions for Middle East, North Africa & Emerging Markets, said: "We are very proud to be selected by Dubai Smart Government as their exclusive network partner for Dubai Careers. Our collaboration aims to help the government entities scale their available jobs, reach and find the best talent, using the world's largest professional network, LinkedIn."
"We are proud of our strategic collaboration with Smart Dubai for the new Dubai Careers portal that uses the Oracle Talent Acquisition solution", said Abdul Rahman Al Thehaiban, Senior Vice President – Tech, Middle East and Africa, Oracle. "Dubai is fast emerging as a preferred destination for top talent from across the world and the new Dubai Careers portal will serve as a powerful vehicle for talented professionals to explore various career opportunities", he added.
"Implemented by leading organizations worldwide to gain strategic talent insights with a single view of talent across all processes, Oracle Talent Acquisition solution will help Smart Dubai easily source, recruit, develop, and retain top talent with an engaging, social, and data-rich talent management tool", he said.
Dubai Careers is the first employment portal that uses Arabic for applying for jobs.
The portal offers a number of features to jobseekers including registering easily, recommending a family member or a friend for a suitable job through the LinkedIn link, possibly sharing a selected job via social networking platforms and making video interviews anytime and anywhere using smart devices.
In addition, the portal offers other features to employers including a roster of eligible candidates, efficient online presence of employers, ease and automation of all recruitment and employment procedures at a lower cost, participation in launching and tracking Emiratization programmes, employment exhibitions and recruitment campaigns on the Internet, linking with universities and educational and training institutions to provide training or volunteering opportunities, going beyond recruitment stages, giving career guidance to new employees and many other features for the benefit of both parties.
Follow Emirates 24|7 on Google News.