Smart Dubai launches its Development Roadmap for Artificial Intelligence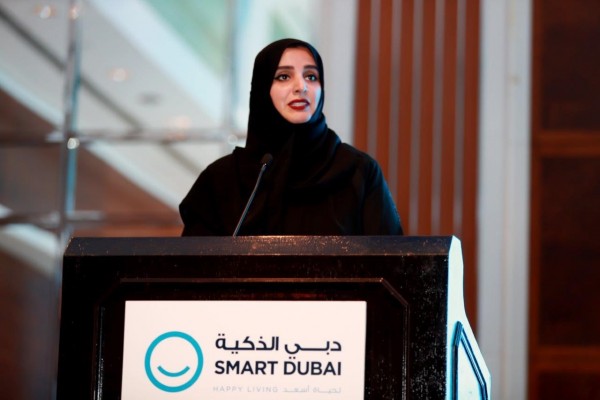 Smart Dubai Government Establishment, the technology arm of Smart Dubai Office, today organised a one-day workshop for executives and technical teams from various Dubai Government Agencies to raise awareness on Dubai's artificial intelligence service, "Saad" and outline a development roadmap for artificial intelligence in Dubai.
In October 2016, Smart Dubai Government Establishment and Dubai's Department of Economic Development (DED), in collaboration with IBM, launched "Saad", the city's first government service utilising artificial intelligence, powered by IBM Watson. The service was launched to allow entrepreneurs and investors to ask questions related to setting up a business in Dubai, and to get real-time responses on various topics, including business licensing requirements and registration processes.
"Saad" is designed to understand natural language and ingest and comprehend massive amounts of data, learn and reason from its interactions, and provide responses that will aid users in deciding on correct courses of action.
Speaking at the workshop, Dr. Aisha bint Bishr, Director-General of Smart Dubai Office, emphasised the power of artificial intelligence for increasing people's happiness in Dubai, and the value of public-private partnerships for contributing smart services to the city. "We believe that by harnessing the latest in technology we can offer innovative services to enhance citizen experiences in Dubai. The impact of Saad, which we delivered in partnership with IBM, is an example of a successful collaboration and we look forward to working side by side as we continue to transform Dubai into a Smart City," she said.
"Our efforts are driven by our desire to implement the vision of His Highness Sheikh Mohammed bin Rashid Al Maktoum, Vice President and Prime Minister of the UAE and Ruler of Dubai, to make Dubai the smartest and happiest city on earth," she said.
She also added that Smart Dubai will soon announce its plans around the launch of a-first-of-its-kind "The Dubai artificial intelligence Roadmap is led by Smart Dubai, the government office charged with overseeing Dubai's transformation into a smart city. Working with a network of partners from the public and private sector, Smart Dubai is continually exploring innovative technological solutions to improve quality of life in Dubai and make Dubai a more efficient, seamless, safe and impactful city experience. The vision of Smart Dubai is to make Dubai the happiest city on earth.
Lab" in collaboration with IBM, previously referred to as "A I Center of Competence to foster a community of excellence in artificial intelligence from Dubai. The Lab will provide skills training for government and private sector employees and local students; host workshops for entities and individuals to experiment and build prototypes; and provide go-to-market support for new services. The AI Lab will support the implementation of Dubai's A I Roadmap, and help accelerate the development of A I services across Dubai. It will also equip Dubai Government Agencies and their partners with the necessary AI skills to develop their own A I services and applications.
"IBM and Smart Dubai Office plan to work hand in hand to equip Dubai Government Agencies with the skills necessary to accelerate their AI journey," said Amr Refaat, General Manager, IBM Middle East and Pakistan. "In this AI era, Dubai Government Agencies now have the potential to use Watson to provide citizens with uniquely customised services and enrich their day to day experiences."
Wesam Lootah, CEO of Smart Dubai Government Establishment, said: "Acquiring the latest technology has become nowadays the easiest part but not the most essential element of preparing for the future. In contrast, employing and humanising technology is the most crucial element in preparing for the future and a goal that we have put before our eyes since the first day the Smart Dubai Government Establishment was launched. Based on the above, this workshop is held to pave the way for the launch of the AI Lab for all services in Dubai City to be compatible with artificial intelligence requirements."
Lootah added: "The more we mention artificial intelligence, the more it comes to our minds such challenges as how machines will do human jobs. We in Dubai, however, believe that this involves a golden opportunity for a better and happier future. The AI Lab is launched as a platform to achieve this goal in partnership with the government entities and educational institutions, enabling the mechanisms of work of all of us to be compatible with what the future can hold."
"We are launching the AI Lab with the 10X initiative before our eyes for enabling all of us to prepare from today for the 10 years to come", he said.
Follow Emirates 24|7 on Google News.