Snake in cat's shadow in Sharjah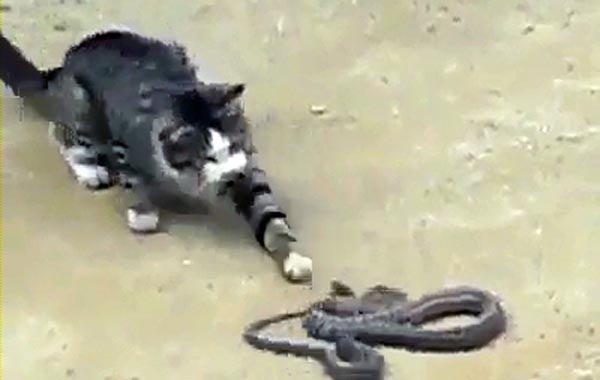 Sharjah's tryst with wild animals took on another dimension on the first day of 2011.
A snake that ended up badly bruised after a fight with a cat was put to death by some Al Khan residents on New Year's day.
Pramod VA, a Sharjah resident, said he found the snake in a miserable state, after it was attacked by a cat near his house, near Safeer Mall, on Saturday afternoon.
Residents then decided to put an end to its misery and crushed its head with a stone.
"It is most probably a pet that had escaped. It was already badly hurt," said Pramod.
According to him the snake was about a metre long. "I was not able to find out what type of snake it was," he added.
Recently, Abu Dhabi police arrested a passenger travelling from Indonesia with a bag full of snakes.
According to reports the bag contained four snakes apart from two parrots and a squirrel inside.
In December, residents of Sharjah were shocked to see a cheetah walking the streets.
The cheetah was seen swimming in Khalid Port before it jumped out of the water and onto the streets.
Police later caught the animal.
Follow Emirates 24|7 on Google News.