Social stigma poses big problem in treating epilepsy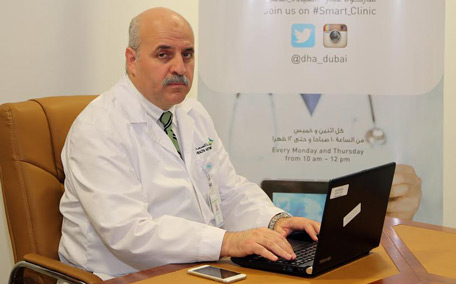 "Sometimes in school, a child may appear to be day dreaming. The teacher may speak to the child but the child will not respond for 15 to 20 seconds. The child is probably having an absence seizure where the child appears to be looking at the teacher but he is actually unaware of what is going on. Often Epilepsy goes undetected because parents and teachers are unaware of the symptoms," said Dr Muhammad Al Kaylani, consultant neurologist and epilepsy specialist at Rashid Hospital.
"Lack of awareness and social stigma surrounding the disease leads to late treatment, complications and poses an emotional burden for the patient and his family members. Late diagnosis is more common in cases where there is partial epilepsy or where the first seizure is not a major seizure."
He said it is important for people to be aware that epilepsy has other signs and symptoms like sudden change in level of awareness, detachment from reality, stuttering or inability to speak, palpitations and confusion, lip smacking, and unresponsiveness.
Epilepsy is the fourth most common neurological disorder and affects people of all ages, stated health experts at the Dubai Health Authority's (DHA) smart clinic.
It's a brain disorder in which clusters of nerve cells sometimes signal abnormally causing strange sensations, emotions, and behaviour, or sometimes convulsions, muscle spasms, and loss of consciousness. Epilepsy means the same thing as "seizure disorders and it is characterized by unpredictable seizures and can cause other health problems".
"Although it is easily treatable, how epilepsy is perceived is often is a bigger problem than the seizures. In general, there is a lack of awareness of the disease and often the disease is confused with a psychiatric illness," Dr Kaylani added.
"One of my patients was an 18 year old boy who came to the hospital's epilepsy clinic after he had a major seizure. When we investigated, we found out that he had milder symptoms for at least two years but he was ignoring it."
Dr Kaylani said it is important for community members to understand that it is a treatable condition. "There are different types of epilepsy but in general, medications can control seizures in about 70 per cent of patients. There are also other methods of treatment including nerve stimulation and surgery."
He said having seizures can affect one's safety, work and so much more and therefore a proper treatment plan along with a daily management plan is important to ensure patient's safety and wellbeing. For example, patients with epilepsy are advised not to use a bathtub, not to stand in high-open places, not to cook with an open flame especially if they are unattended, not to swim unless there are lifeguards present etc.
Dr Kaylani said before a woman with epilepsy plans pregnancy she should always consult her physician to decide which kind of medications are safe during pregnancy and she should start medications such as folic acid and some other multivitamins at least three months before she starts planning her pregnancy.
Epilepsy is called 'symptomatic' when it has a known cause. This may include a head injury, an infection like meningitis, a stroke etc. Epilepsy is called 'idiopathic' when it is thought to be due to a genetic tendency and it is called cryptogenic epilepsy is when the cause for a person's epilepsy has not yet been found, despite investigations.
Dr Kaylani added that in addition to medication, a ketogenic diet is recommended for patients with epilepsy.
A ketogenic diet is a special high-fat, low-carbohydrate diet that helps to control seizures in some people with epilepsy. It is stricter than the modified Atkins diet, requiring careful measurements of calories, fluids, and proteins.
Follow Emirates 24|7 on Google News.