Sorcerer with 20 belts around his waist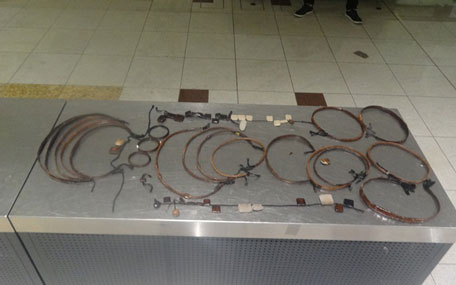 An African national arriving in at Dubai International Airport recently had made more than a few fashion errors.
"This passenger was found wearing 20 belts around his waist," said Hassan Ibrahim, Senior Inspections Officer at Dubai Customs.



Hassan Ibrahim, Senior Inspections Officer, Dubai Customs. (Photo credit Glenn Dance)

Speaking to Emirates 24|7, Hassan explained: "These are belts used specifically for the purpose of black magic and witchcraft."

What's equally disturbing are the materials of the belt.

"They are made up of animal skin, animal bones, papers with symbols written on them," added Ibrahim.

And instead of having a traditional belt buckle, as belts usually do, these ones have an improved version.

"Some of the belts had locks on them, so they were intended to be worn all the time," said the Senior Inspections Officer.

The attentive Dubai Customs team, who check and verify thousands of passengers arriving on a daily basis at the world's busiest airport, often come across individuals associated with black magic and sorcery.

"We face two or three cases a week."

He added: "Regarding black magic and witchcraft, most of the time, it's the passenger's profession, and in some cultures its normal to carry such items with them."

Those items include animal skin, animal bones, dead animals, liquids, candles, and papers with unusual symbols written sometimes in Saffron or blood.

"Occasionally it's the passenger's nature to be nervous so in that case we look for more signs, and the key points for us to look for that help create a clearer picture would be the contents of their bags, and most importantly, the destination they've arrived from," explained Hassan.

In this particular case, the inspectors scanned the passenger's bags through the machines and found items in his luggage that positively indicated the practice of witchcraft.

"He had candles, a couple of belts, dead scorpions, a rope made of braided human hair, and drawings with unusual symbols," explained Hassan.

The inspectors then proceeded to check the passenger through their body scanner, to check that he's not hiding anything around or inside his body, as most smugglers do.

"Since there was evidence of him taking part in black magic, we passed him through the body scanner, and it revealed that he was wearing more than one belt around his waist."

So when they physically checked him, they were surprised to see more and more belts come into the picture.
"He told us 'we believe in all of these things, and they are used for my protection'."

The team suspected his intent to sell the belts when he arrived.

"If this was for his own personal use, he would need just one, not 20 belts!" explained Hassan.

Furthermore, it's considered abnormal for people to carry such items with them including unknown symbols, dead animals, animal skin, blood and animal parts.

"Most of the passengers carrying these items come here to fool people, steal money, scam, and harm people through black magic."

Hassan continued: "These practices are completely illegal in our country, against our regulations, and these sorcerers are dangerous to our society and a threat to the safety of the UAE."

Meanwhile, the items are confiscated by the authorities, the passenger is then deported back to his country usually on the same day, and inevitably, banned from entering the UAE thereafter.
Follow Emirates 24|7 on Google News.