Stamps issued as Dubai Chamber turns 50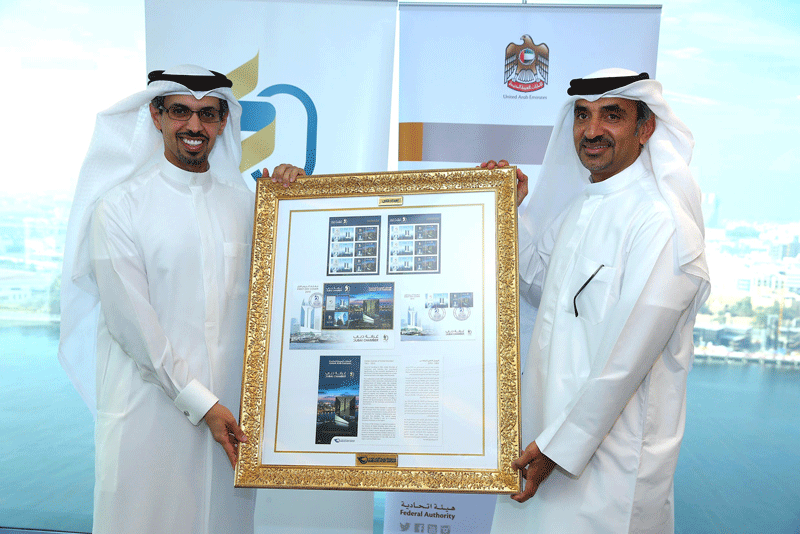 Paying special tribute to the 50th anniversary of the founding of Dubai Chamber of Commerce and Industry in 1965, the Emirates Post Group, in cooperation with the Chamber, has issued commemorative stamps marking the occasion.
The first copies of the postage stamps were presented to Hamad Buamim, President and CEO of Dubai Chamber, by an Emirates Post Group delegation headed by Chief Commercial Officer of EPG, Ibrahim bin Karam.
The commemorative stamps reflect the Chamber's vision and mission throughout its history in line with the vision of the emirate of Dubai as the organisation has now become an integral part of the emirate's growth story. The stamps are available at all post offices.
Buamim said, "This launch not only marks the golden jubilee of the Chamber but reflects on its role as a leading business facilitator and contributor to the emirate's remarkable growth. This release also motivates us to continue our efforts to successfully implement our plans and to support the business community by providing the best services to all our stakeholders in Dubai."
He pointed out that the Chamber is keen to present copies of the commemorative stamps to the visiting global trade delegations as the organisation annually receives more than 400 delegations, adding that these tribute stamps will showcase the five decades of offering excellent services to the local business community while promoting the Chamber as a leading supporter of the emirate's business environment.
On his part, EPG Chief Commercial Officer Mr. Ibrahim bin Karam said: "Emirates Post Group is delighted to acknowledge through these stamps the pivotal role played by Dubai Chamber in the development and growth of business in Dubai over the past 50 years. Dubai Chamber has been an early incubator of business in Dubai at a time when the region as a whole lacked professional business scenario."
"The issuing of these stamps is an extension of EPG's efforts to support key organisations and events and promote them locally and internationally. The design of the commemorative stamps reflects the ambitious goals pursued by the Chamber over the past 50 years in line with the vision of the Emirate of Dubai. The stamps will boost the profile of the Chamber as a contributor to the success story of Dubai," Bin Karam added.
Follow Emirates 24|7 on Google News.