Stormy UAE weather: Rains, strong winds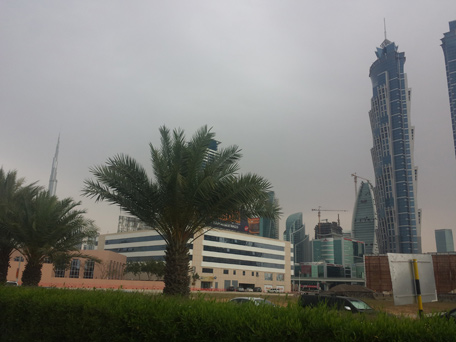 UAE residents can expect chilly weather pattern in the coming days.
The National Center for Meteorology and Seismology has forecast drop in temperatures along with rain in some parts of the country.
The skies will be cloudy to partly cloudy from today until Tuesday with the cloud cover increasing during evening and night in some areas with probability of rainfall.
Meanwhile, there will be a noticeable drop in temperatures on Monday and Tuesday, the weather bureau added.
Sea will be rough and beach-goers are advised not to venture into the waters, while motorists are urged to abide by traffic rules as winds are expected to be strong affecting horizontal visibility.

EARLIER: Weekend weather forecast
Residents of the UAE who were celebrating the chilly Thursday morning that saw temperatures dip to 4.8°Celsius in Damsa, may have to hold off reaching for those sweaters just yet.

According to the country's weather bureau, the Mercury is set to rise over the next few days, as will the humidity, giving rise to fog formation over the internal parts of the UAE.

The temperature in the internal areas will rise to almost 30°C, while those who want to experience the chill can try the mountains, where the minimum is expected to hit 6°C.

The National Centre for Meteorology and Seismology (NCMS) has stated Friday will see a further rise in temperatures, adding: "[It will be] fair to partly cloudy weather in general. Another slight rise in temperatures over scattered areas."

The NCMS further said, light to moderate winds won't drive up the heat, but the UAE will see "relative humidity increase during night and early morning times over the coastal and the internal areas, which may form mist."

Meanwhile, Saturday will follow a similar patter with the relative humidity expected to increase during night and early morning over the coastal and the internal areas. (BINDU RAI)
Follow Emirates 24|7 on Google News.