Stress causes cancer, say UAE residents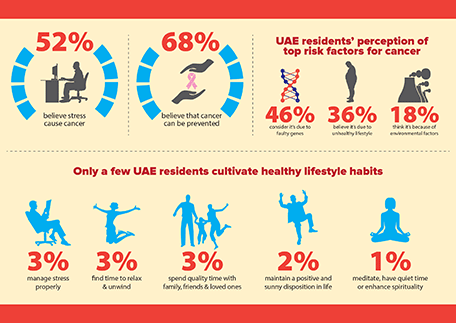 More than half the expat population in the UAE believe that stress causes cancer but in spite of this belief, only a tiny fraction take any stress management measures.
These findings are a part of a cancer awareness survey undertaken by The Medical City (TMC), the Philippines' healthcare network which partnered with Kuwait's Sama Medical Services.
Another major misconception, as revealed by the survey, is that almost every other resident believes that genes are the biggest risk factor in cancer. However, the American Cancer Society says that "only about 5 to 10 per cent of all cancers result directly from gene defects (called mutations) inherited from a parent."
According to the survey, 52 per cent of the 1,000 respondents believe that stress causes cancer; 46 per cent believe that faulty genes post the biggest risk; and 68 per cent believe that cancer can be prevented.
While the respondents think that cancer can be prevented, the large majority of them neglect good lifestyle choices. Very few cultivate the habits that can actually bring down the risk of cancer – only 3 per cent take any steps for proper stress management; 6 per cent have an organic diet; 3 per cent find enough time to relax; 3 per cent spend regular quality time with family and friends; 2 per cent try to maintain a cheerful disposition in life; and 1 per cent do meditation.
As a cancer prevention strategy, only 21 per cent engage in physical activities; 17 per cent stay away from junk food, processed food, and the like; and 9 per cent get a minimum of eight hours of sleep.
Two of the biggest risk factors for cancer are exposure to a toxic environment and poor lifestyle choices.
"It is important to embrace preventive, promotive, proactive and diagnostic interventions to address a number of lifestyle diseases especially cancer. In TMC's Center for Wellness, we utilise evidence-based medical approach that helps people adopt a healthier lifestyle and facilitates positive health behavior changes," said Dr Rebecca Desiderio, chief executive officer of The Medical City in Dubai.
About 14 million new cancer cases are diagnosed every year, according to the World Health Organization. However, advanced medicine has also greatly improved the likelihood of a cure.
Cellular therapy, which included stem cell therapy, is one of the breakthroughs in cancer research – about 59 per cent of TMC survey respondents say that they have no knowledge of this.
Cellular therapy is an option for cancer therapy. This includes using stem cells and growing different cell types that can be used to enhance the immune response to cancers: targeting specific tumor cells, growing killer cells specific for cancers, and affecting the response as well as resistance to different chemotherapeutic drugs.
A study published in the Journal of Clinical Oncology in May 2013 shows that survival rates increase significantly among patients who have received blood stem cell transplants from both related and unrelated donors. The study has analysed treatment results for more than 38,000 transplant patients in the US with life-threatening blood cancers and other diseases such as leukemia and myelodysplastic syndrome over a 12-year.
"Diagnostic and therapeutic uses of stem cells have to be integrated with molecular regenerative medicine because many other components are needed in addition to stem cells," said Dr Samuel Bernal, chairman of the Institute of Personalised Molecular Medicine at TMC. Bernal is an expert in oncology and regenerative medicine. The latter field involves engineering of cells and other biomaterials which can result in structural regeneration of tissues and functional improvement of organ systems.
Since its inception, TMC's regenerative medicine programme has served some 600 local and foreign patients in the Philippines. TMC has for a long time invested in research in stem cell therapy and molecular medicine.
Besides cancer, personalised molecular medicine also has a very promising impact on the treatment of widely prevalent conditions such as diabetes, metabolic disorders, neurological diseases (Parkinson's, Alzheimer's, dystonia, spinal cord and nerve injuries), diseases of the heart (non-ischemic cardiomyopathy, post-myocardial infarction), liver (cirrhosis, hepatitis), bones (bone and cartilage regeneration, osteoporosis), kidney (acute and chronic renal diseases), eyes (cornea damage, retinal diseases, glaucoma), and other degenerative diseases as well as treatment of burns and trauma.
TMC programmes will be highlighted at the upcoming Arab Health Exhibition and Congress that will take place on January 25 to 28 at the Dubai International Convention and Exhibition Centre.
Follow Emirates 24|7 on Google News.