Student project on smart utility metres wins top prize at Middle East Electricity Awards 2017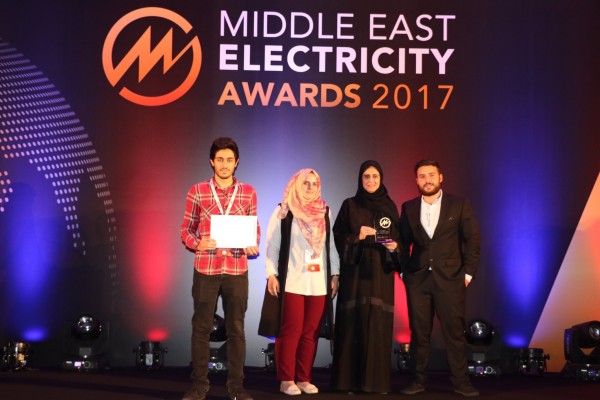 Students from American University of Sharjah (AUS) have developed a 'smart utility metre reader' that allows home owners and utility companies to check the status of meters anytime and anywhere.
The innovative project was declared the winner of the Future Generation Undergraduate category of the Middle East Electricity Awards 2017 held recently at the Dubai World Trade Centre.
Entitled IOT-based Smart Utility Metres, the project was designed and developed by Mais Haj Hassan, Mohammed Abdelsalam, Mustapha Ezzeddine, and Mohannad Baseet, four students from the Department of Computer Engineering at the university's College of Engineering.
Dr. Abdul-Rahman Al-Ali and Dr. Taha Landolsi, both professors of Computer Engineering at the university, advised the students on the project.
"The utility metre is designed based on Raspberry Pi, the latest single system-on-chip computing platform. It is empowered by the internet of things and utilises cloud computing for storage and big data analytics as well as Google Maps," explained Dr. Al-Ali.
"Using mobile phone and utilities' operation centres, home owners and utility operators can wirelessly access the metre to monitor and control home appliances and manage power, gas and water consumptions. Both utility companies and home owners can check the status of the meter anywhere, anytime." he added.
The competition was run as part of Middle East Electricity, an international trade event hosted by the UAE Ministry of Energy, and asked students to develop projects that dealt with energy efficiency or alternative energy. The final round saw nine teams from AUS, Heriot-Watt University Dubai, Higher Colleges of Technology – Sharjah Women's Colleges, RIT University Dubai, University of Bolton RAK Campus, Birla Institute of Technology – Offshore Campus RAK, shortlisted, with AUS emerging as the victor.
Follow Emirates 24|7 on Google News.