Stunning UAE commercial tower with stone-like façade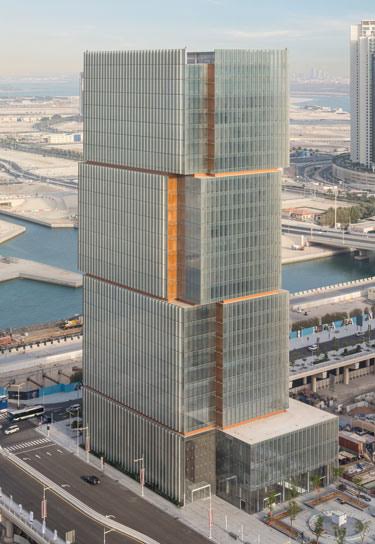 It's an architectural accomplishment quite different from other buildings in Abu Dhabi and has been defined as 'stunning' by jury members of the Council on Tall Buildings and Urban Habitat.
Al Hilal Bank Tower on Al Maryah Island, which was recognised as a 'Best Tall Building Middle East & Africa Finalist' in the 2015 CTBUH Awards Program is an architectural accomplishment quite different from other buildings in the emirate.
The skillful articulation of the curtain wall's fritted glass panels provides relief on the corners, giving it a stone-like appearance, the council said on its website.
"This articulation has been achieved with minimal impacts on the very efficient typical office floor plate. Taken together, the design combines elegance and utility into a highly appealing commercial tower," it added.
The tower's, the flagship commercial development for the Al Hilal banking network, design offers an original scheme shaped by a combination of the building's function, site, and contextual influences. The tower's composition features stacked boxes that are slightly offset from each other vertically so that it shifts in massing as it rises.
Designed to set the building apart from other towers on Al Maryah Island, while also providing efficient, column-free interior floor plates within, these forms derive their interest from a "push-and-pull" effect at the corners. In addition, the building's façade changes composition at the created voids to accentuate this kinetic, shifted aesthetic.

[Pic Courtesy: CTBUH]
The building incorporates a glass and steel curtain wall system, which lends it a sleek, modern feel, CTBUH said.
Each façade includes exterior glass fins featuring a white ceramic frit pattern that provides texture. The fritted glass helps enhance the energy efficiency of the building by shading it from intense daylight while providing filtered light to the interior spaces. The façade has orange accents, which highlight the dynamic corners and call out the bank's branding scheme.
The trio of cubical masses rest upon a podium containing a retail banking facility as well as a dramatic three-story lobby to the north, with pedestrian arcades on the east and west sides. The glass curtain wall offers optimal transparency with floor-to-ceiling glass, creating a nearly seamless transition from the interior to the exterior of the structure, it adds.
Sustainable strategies include exterior shading, high-performance glazing, and energy-efficient components for lighting, heating, cooling, pumps, and fans, which all contribute to energy savings of 12 per cent.
A comprehensive water strategy minimizes the project's interior potable-water consumption. Low-flow fixtures, metering faucets, and dual-flush toilets are included for all common restrooms.
Condensate recovery is used to reduce water consumption for irrigation of the park. The site's shrubs and trees have been selected based on minimal water requirements, and provide additional shade. Extensive electrical metering provisions are installed at every level of energy distribution, accounting for all of the building's electrical consumption and generation, the council said.
Follow Emirates 24|7 on Google News.