Sustainable City in top gear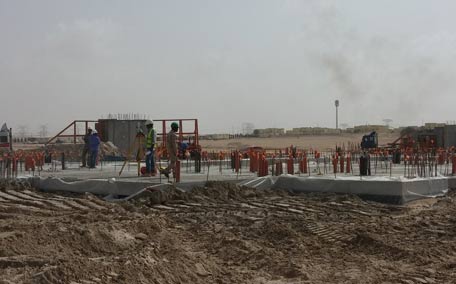 Diamond Developers has commenced work on its Dh1.1-billion Dubai Sustainable City in Dubailand and aims to hand over first 100 units by year-end, company chairman has revealed.
"Work has started on the first, second and third villa clusters and we aim to commence construction on the fourth and fifth cluster by April and May, respectively," Faris Saeed told Emirates 24|7 during a site visit.
Each of these villa clusters consists of 100 units.
"We have between 500 and 600 workers onsite every day. We plan to complete 90 villas in three months, which means we will build one villa in a day," he added.
The villas are being built using precast concrete blocks to reduce wastage.
"We don't want wastage of concrete and so we get precast concrete blocks and simply fix them onsite," Saeed disclosed.
The Sustainable City, with all its components such as school, planetarium, sustainability centre of excellence, resort, horse track, etc will be completed by mid-2016.

No service fees
The developer is currently selling villas, starting Dh1,200 per square foot, which includes a golf cart, a subsidy to buy another electrical car and zero maintenance fee.
"The project offers not only a countryside living ambience to home owners, but they will never have to pay any service and community charges.
"Our package will include zero service charges, zero community fees and zero maintenance fees for owners."
In fact, Diamond Developers will make all the villa owners partners in its 55,000 square feet retail area and 55,000 square feet office block.
"The rent generated from the commercial centres will be divided into shares and given to residents. We expect each share to cover all their costs.
"And if the income exceeds the cost then residents will take home money," he added.

So who is buying?
"Currently, 30 per cent of the buyers are Emiratis, but other nationalities also have been buying," Saeed said, without revealing the number of units sold to date.
"Majority of our buyers are end-users, or ones looking to rent them post-completion.
"Moreover, we aren't allowing buyers to sell their units until they are completed, so we don't see any speculators in our project."

Funding in place
According to the chairman, funds are in place to construct the project.
"We already have funds to finance the residential component while banks/financial institutions are ready to finance our resort, sustainability centre of excellence and planetarium."
At least 20 per cent of the construction area in the project will be built with eco-friendly materials, with 60 per cent of the city being landscaped.
Solar farms will cover 600,000 square feet, while 50 per cent of the cooling energy in the city will generated through solar power.
The city will have 10 MW peak solar production, 2,700 residents and a daily population of 6,000.

Green facts
- All the buildings are directed against the sun, face north, so direct sunlight is eliminated.
- All the walking areas are shaded.
- Sixty per cent of the project is landscaped.
- 100 per cent of the sewage water will be recycled.
- Each villa has been designed in a very effective way to ensure 50 per cent saving in electricity and water bills.

- Each house will have solar panels on the roof, which can hopefully produce 50 per cent of the consumption.
- There will be electric buses, operating every 15 minutes, in the city.
- The city will host social events all through the year to promote social sustainability.
- The city is open to everyone and is part of Dubailand's vision to have many attraction points.
Follow Emirates 24|7 on Google News.