Switzerland offers UAE "Flower clock" in recognition of its efforts to promote happiness and sustainability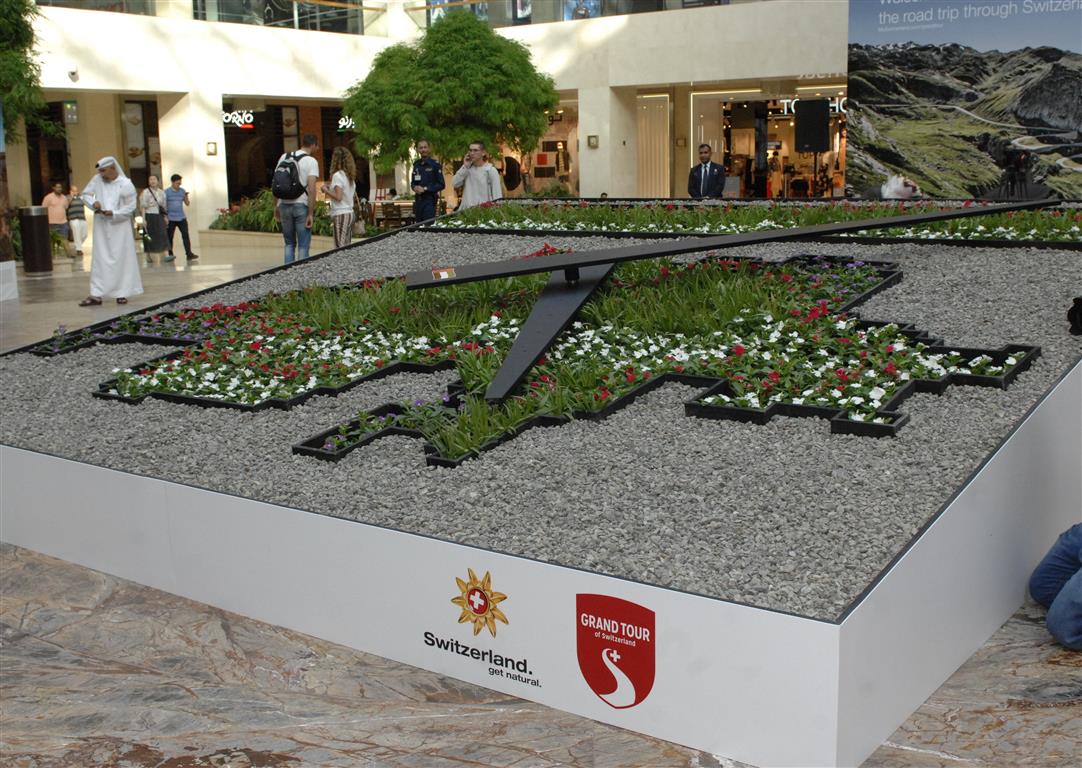 Switzerland has offered a "Flower clock" as a symbolic gift to the UAE in recognition of its exceptional efforts in promoting happiness, sustainability and the environment at an event organised by the Swiss Embassy in Abu Dhabi.
The event was held in co-operation with Switzerland Tourism as part of its celebrations for Switzerland's ranking as the world's happiest country in the 2015 World Happiness Report.
The "Flower Clock," made of thousands of natural flowers set in a 25-square-metre artwork, was presented at an exhibition at Yas Mall in Abu Dhabi from 4th to 6th May.
Maya Tissafi, Ambassador of Switzerland to UAE, praised the UAE, saying, "For Switzerland, always ranked one of the happiest countries in the world, it is fascinating to observe how much work and resources the UAE has invested in its population's well-being over the last years. In this regard, it is our sincere hope that this Swiss flower clock gifted to our Emirati partner will contribute to making happiness further flourish in the country!"
Matthias Albrecht, Director GCC of Switzerland Tourism, said, "The event is a fantastic opportunity to showcase the natural beauty of Switzerland and its iconic road trip – the Grand Tour of Switzerland."
"We would like to invite guests from the UAE to experience Switzerland by themselves. We are looking forward to sharing our happiness with them and bring our natural beauty a little closer to the UAE hearts," he added.
The exhibition, initiated by Switzerland Tourism, features several large cubes to display fantastic Swiss landscape pictures. In addition, a professional "Maitre de Chocolat" will produce happy chocolate on site for guests to sample. After the exhibition, the flower clock will be re-planted in UAE colours wherever it is suitable for the UAE.
Follow Emirates 24|7 on Google News.