The Chevrolet Bolt EV joins the Dubai Police fleet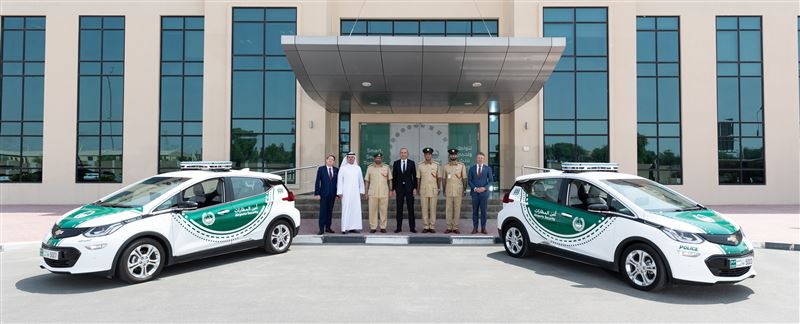 The Chevrolet Bolt EV is the latest electric vehicle to join the prestigious Dubai Police fleet of cars, with the first eight units patrolling the roads as of today. With an impressive line-up of hybrid and electric vehicles in the police force already, the Chevrolet Bolt EV offers long-range practicality of up to 520 kilometres on a single charge – unprecedented in its segment.
Dedicated to being a key driver in the region's motoring landscape, General Motors' EV efforts fall in line with the Dubai Government's vision for more sustainable and smart mobility solutions.
Brigadier Dr. Muhammad Nasser Al Razooqi, Director of Transport and Rescue: "This partnership with Chevrolet is part of our ongoing commitment to better serve the citizens and residents of Dubai while also leading the way in Dubai's green initiative. The addition of eight Chevrolet Bolt EV cars to our Dubai Police electric fleet will make a big impact in our mission to raise awareness around the benefits of electrification within the Emirate."
Already a game changer in the electric vehicle space, the Chevrolet Bolt EV brings together a long history of automotive manufacturing with cutting-edge green technology to produce one of the most practical electric vehicles in the market today.
Speaking on the Chevrolet Bolt EV's addition to the Dubai Police fleet, John Roth, President & Managing Director of General Motors Africa & Middle East said: "We are proud to support the Dubai Government in its vision to make the Emirate a greener city. The Dubai Green Mobility Initiative has set some ambitious targets, including a 10% penetration of alternate propulsion vehicles in government fleets by 2020. This is a bold target, and we look forward to being equally bold in General Motors' role as a reliable partner, with the Chevrolet Bolt EV forming the backbone of these fleets, starting with the world-famous Dubai Police fleet."
General Motors is leading the charge toward a fully-electric future, both regionally and internationally as part of the company's vision for a world with zero crashes, zero emissions and zero congestion, ideals that are well-aligned with that of the Dubai Government.
Delivering the fleet of Chevrolet Bolt EVs to the Dubai Police, Mark Jenkins, CEO of Al Ghandi Auto, one of the brand's official dealers in the UAE, commented: "As one of the Emirate's leading dealerships, we have a strong relationship with the Dubai Police and remain firmly committed to supporting them in creating a sustainable landscape in future mobility. We are extremely proud to be handing over these Chevrolet Bolt EV units, signifying our dedication to bringing innovation that complements the direction of the Dubai government."
Follow Emirates 24|7 on Google News.