The UAE has a progressive vision for transforming its economy: Hyperloop One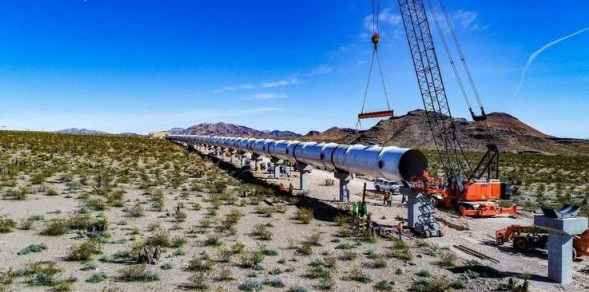 The UAE has a progressive vision for transforming its economy, and Hyperloop One plays right into that by increasing access to the region and beyond, said Shervin Pishevar, Executive Chairman and Co-Founder of Hyperloop One.
"We're thinking beyond the benefits that Hyperloop will offer companies, connecting the GCC with Hyperloop will enable governments to address the region's youth bulge, by providing young jobseekers with the opportunity to explore new, exciting job prospects. As an entrepreneur myself, I can understand the value of having an accessible ecosystem," Pishevar added in a statement delivered at the Global Manufacturing and Industrialisation Summit, GMIS 2017.
Set to have a disruptive effect on manufacturing, warehousing and supply chain distribution throughout the wider six-member Gulf Cooperation Council, GCC, and beyond, Hyperloop One is reinventing transportation to eliminate the barriers of distance and time. Travelling at speeds of 1080 km/h, the company plans to enable travel between cities in the GCC in under an hour, enabling disruption that will create new opportunities in manufacturing, warehousing and supply chain distribution.
In the wider GCC, the cargo transportation market was worth approximately US$35 billion in 2016, according to McKinsey & Co. Of this, Hyperloop One has an addressable share of around US$12 billion, excluding short-haul, intra-city shipping and low-value commodity freight such as oil and chemicals, metals and minerals and agriculture and food products.
Hyperloop One would compete for 100 percent of air freight in the GCC, a US$7 billion market, 22 percent of the surface freight, which is approximately US$3 billion in road and rail freight and 13 percent of the maritime freight, equating to roughly US$2 billion.
Senior Vice President of Hyperloop One's Global Operations, Nick Earle, brought to light the transformative effect that Hyperloop One will have on manufacturing, logistics, supply chain and warehousing.
These sectors, he noted, will benefit from increased capital due to reducing finished goods inventories by 25 percent, access to ten times larger talent pools with the same commute time and saving up to 80 percent on real estate costs, as well as shorter lead times, reduced freight spend and slashed CO2 emissions.
At two-thirds the cost, three times the speed and approximately four times the benefit of high-speed rail, Hyperloop will have a tangible impact on current and future businesses and society. Hyperloop will transform transportation, driving value throughout the ecosystem and enabling job creation, while also empowering workers with the ability to commute quickly and easily. This, in particular, will help to provide employment opportunities to the 200 million youth that live in the Middle East and North Africa, the largest growing sector of the region's population.
Held in Abu Dhabi from 27th to 30th March, the inaugural GMIS brings together decision-making leaders from governments, businesses and civil society organisations to shape a vision for the manufacturing sector's future.
Follow Emirates 24|7 on Google News.