Tiger taken for a ride in Dubai Marina Promenade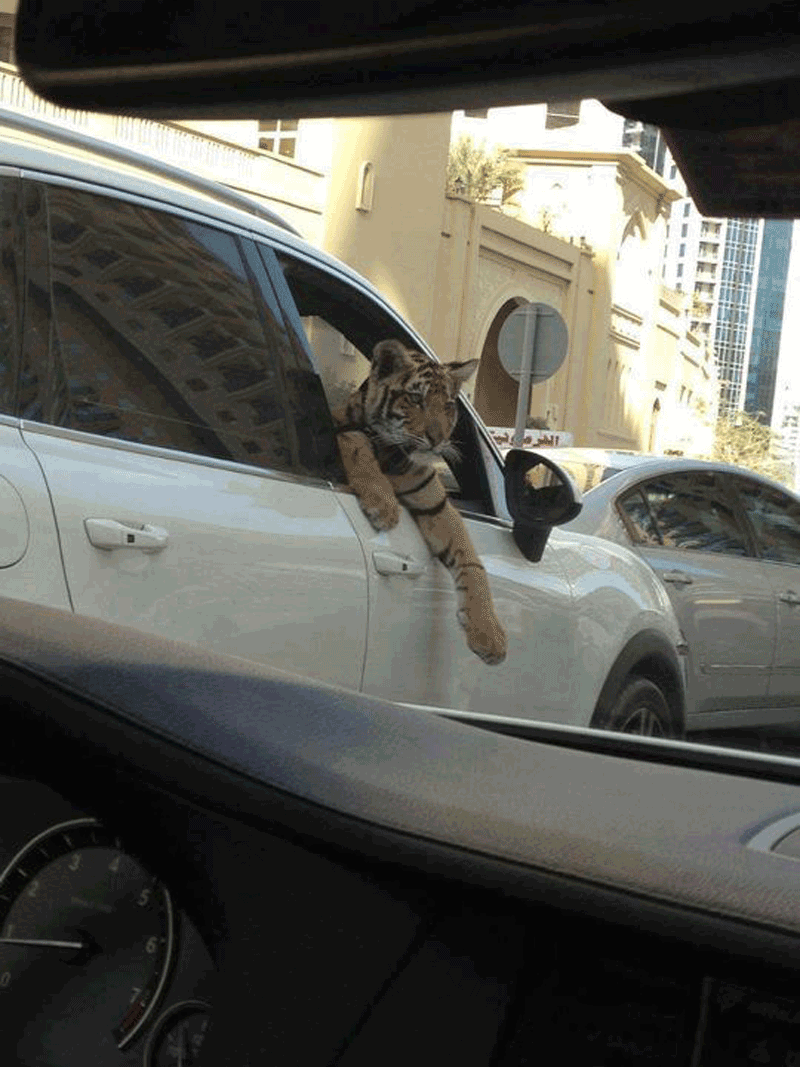 The picture of a tiger hanging out of the window of a car driving in Marina Promenade area has created frenzy in the social media circles.
The picture was posted on February 19 on social websites such as Twitter and Facebook. Over the day the picture gradually became a social media trend and was tagged a "top image" by Twitter.
One tweet dubbed the tiger as JBRised. Another said: "It is indeed real – someone brought one to a party once to show off".
Click here to read about pet lion cub on sale
"(1) It's a safety hazard for people in the community and (2) keeping a wild animal as a pet is detrimental to the animal's health," was a comment of a person who person who posted the picture on Facebook.
There were also people doubting whether the tiger was real at all.
Another tweet said "please tell me this is a fake" and "these animals should live in their habitat... not in cars/homes."
Exotic animals have always found willing buyers in the UAE and this website has reported on several wild animals easily available and being bought here.
In an earlier report, the website found illegal African cheetahs are becoming very popular as pets for some rich individuals who pay about Dh40,000 to own this dangerous pet.
A 27-year-old UAE national from Abu Dhabi who sells cheetahs illegally in the UAE was quoted as telling Emirates 24|7 in the report that all these cheetahs are smuggled into the country from African countries.
He added: "These cheetahs are mainly exported from African countries to Somalia. From there, they are exported to Yemen and then it is smuggled into the UAE from Saudi borders. This is done by highly experienced people who have been doing this for a very long time."
Another earlier report also tracked a four-month old lion cub on sale and the reporter was offered the wild cat by a dealer for as little Dh 50,000.
The cat was advertised on a website and when the reporter called the dealer, he was informed the animal was currently being kept in a villa near the Emirates Hills area.
In past incidents, Sharjah residents were shocked to find a female cheetah strolling down a main street. The cheetah was captured before it could do any harm.
According to UAE laws, keeping of animals like lions and tigers, or any other wild animals in a residential area is illegal.
Emirates24|7 impact
In 2010, following an Emirates24|7.com exposé on the trade of banned and exotic animals over UAE-based internet websites on Sunday, a website Olx.ae sprung into action by removing all advertisements that were highlighting the sale of cheetahs and lion cubs.
In a written statement, Fabrice Grinda, CEO, OLX.ae said: "Thank you for letting us know of the violation. The ads have been deleted and the users have been blacklisted… Thanks again for helping us keep the site clean."
Click here to read about illegal sale of exotic animals
Follow Emirates 24|7 on Google News.