Transformers land in UAE; cost - $100,000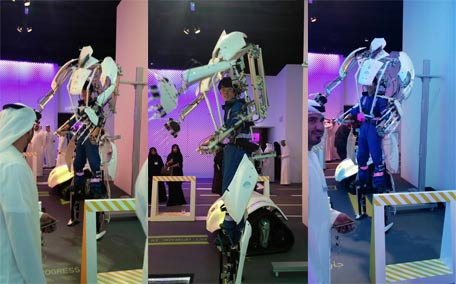 Transformers have arrived in the UAE!

Skeletonics Inc., a Japanese manufacturer of a metal skeleton that amplifies the movements of its human controller, has sold an 'exoskeleton' model in the UAE, costing $100,000.

"We have sold one exoskeleton in the UAE. Currently, it is used for entertainment but it can be used in the industrial area as well," a company official manning the demonstration booth at The Government summit in Dubai told Emirates24|7.

The official did not disclose who has bought the robot.

The Skeletonics robot suit was developed by 24-year-old Reyes Tatsuru Shiroku and other members of the 2008 Robocon robot contest champion team from Okinawa National College of Technology, according to Japan Times.

The company has till date created five models of exoskeleton with the fifth generation being created in June 2014, which is currently on display in Dubai.

Operating the 2.6-meter-tall robot is as simple as climbing into its metal frame and moving your own arms and legs. It takes not more than a minute for strapping the suit.

Huis Ten Bosch, the Dutch-style resort and theme park in Sasebo, Nagasaki Prefecture, have purchased one of the models and has featured it prominently in its parades, 'Japan Times' reported.

Company president ReyesTatsuru Shiroku, too, has said the exoskeleton is for mostly for the purpose of entertainment.
Follow Emirates 24|7 on Google News.