Two get lucky at DSF: Win Infiniti Q70 car for just Dh25,000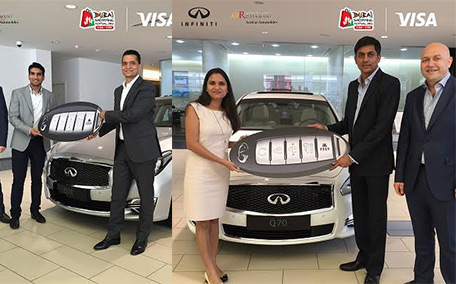 It's the season to knock up a deal! At the Dubai Shopping Festival (DSF) shoppers can either try their luck at raffle draws to win cash, car or gold, or sign up for unique social media contests that sells many items for massive discounts.
From left to right: Mansi Chandekar, Visa Impossible Deals Winner; Shalabh Jakhetia, Visa Director of Cross Border Marketing, Central Europe, Middle East and Africa; and Hussam Baghdadi, Dy. General Manager – Sales and Marketing Arabian Automobiles. (Supplied)
Imagine getting an Infiniti Q70 for just Dh25,000! The car is worth Dh161,000 and was pegged at 85 per cent off its retail price.

That's exactly what happened during Visa's 'Impossible Deals' promotion for this year's Dubai Shopping Festival (DSF).

Two residents - Yogesh Kumar Yadav and Mansi Chandekar – were lucky to win the luxury cars.
From left to right: Hussam Baghdadi, Dy. General Manager – Sales and Marketing Arabian Automobiles; Yogesh Kumar Yadav, Visa Impossible Deals Winner; and Karim Beg, Visa Head of Marketing for Middle East and North Africa (Supplied)
During this shopping season, Visa cardholders get a chance to redeem - on a first come, first served basis - a limited number of fantastic deals on a range of electronics, travel, entertainment, luxury goods and automobiles.

"I've been participating for many raffle draws, and have movie tickets and stuff, but nothing this big," said Yogesh, who's doubly excited that the win is just weeks ahead of his wedding day. "It's an early wedding gift," he beamed.

Yogesh said the idea of the contest was exciting. "I registered for the Infiniti QX70 deal at 8am that morning, and was informed that the click would appear on the Facebook page of Visa between 2pm and 4pm. I remember clicking on it at 2pm, and that was it. I didn't think I would win, but when I got a call in the night, I was ecstatic." An e-mail with the details followed, and he is hoping to get his hands on his new machine this weekend.

"I was planning to buy a car, after my marriage, but this is great!"

Mansi was equally excited, and a tad skeptical when she saw the e-mail stating her win. "I thought it was some scam, and didn't give it much importance till I got a call the next day. I was over the moon."

A working mother, she has a driving licence but has never owned a car. "My husband drives a Nissan Altima, but this will be mine. My first car, and my first win. This is going to be special."

Mansi claimed she had never won any lucky draw so far. "You always hear about the raffle draw but I have never been lucky... until now."
Follow Emirates 24|7 on Google News.