Two years after Kuwait Tower blaze residents still wait for closure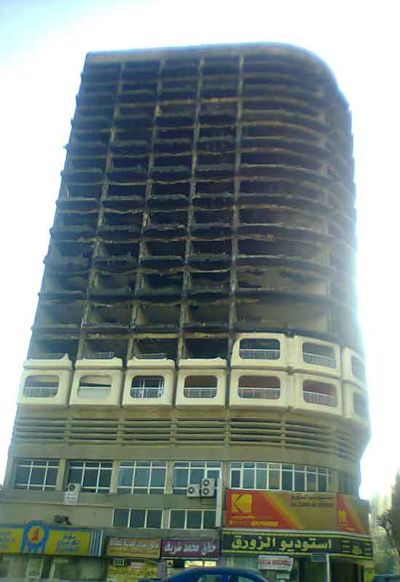 Even as Sharjah residents are in shock of last week's Al Bakr Tower blaze, the website has discovered that victims of an earlier blaze, which gutted most parts of Kuwait Tower almost two years ago, are yet to regain normalcy as the case is still being fought out in court.
While shop owners that operated out of the tower are awaiting insurance claims to either reopen or move elsewhere, ex-residents have their fingers crossed, unsure if they would get any reimbursement for the damages suffered.
The fire that engulfed Kuwait Towers - located on the busy Sharjah-Ajman highway - on July 7, 2010, had injured six residents and charred majority of homes and shops on the front side of the high-rise.
While it is alleged that the owner had tried selling the tower to a GCC investor, the Sharjah Municipality has not yet approved either renovation or reopening of the building.
Earlier reports suggested that Sharjah Municipality would raze the building, however, even that is subject to the outcome of the case.
The municipality, meanwhile, conducted detailed tests to determine the age of the building and allegedly demanded Dh2 million deposit to reopen the remaining part of the tower. However, this could not be confirmed from officials ources.
A source from Al Zarak Studio, on the ground floor of the gutted Tower, said: "We have lost costly equipment in the blaze. About 20 employees used to work in our studio, which was operating from the building for 18 years. We will wait for some more time before starting a new branch somewhere in the adjacent area."
Meanwhile, all families that resided in the building as well as those in adjacent high-rises have vacated.
This is having an adverse effect on groceries, salons and laundriesm in the area as they have lost significant number of customers.
A manager of a grocery shop close to Kuwait Tower said: "We purchased this grocery from the previous owners because they did not have enough business. We are just picking up business and we don't see any chance that the Kuwait Tower will be opened again for residents."
A beauty parlour, salon, and a chicken shop on the ground floor of Kuwait Tower has been closed for several months. But a few owners have put up notice boards claiming that they will 'reopen' soon.
The building is currently covered with a wooden façade.
Most residents who moved out gave up pending payment. One ex-tenant said: "Only those who had long-term contracts got some compensation."
"There is no insurance cover for tenants or shops. We know the court case is on. Electrical wirings and plumbings have been removed and some scrap items such as copper wire, plastic pipes and other materials have been allegedly sold by people who are taking care of the building," said another source.
The late night fire destroyed everything from furniture to computers, television sets, household appliances, clothes and passports and other essential items.

Follow Emirates 24|7 on Google News.