UAE aircraft carrying 100 tonnes of food supplies arrives in Mali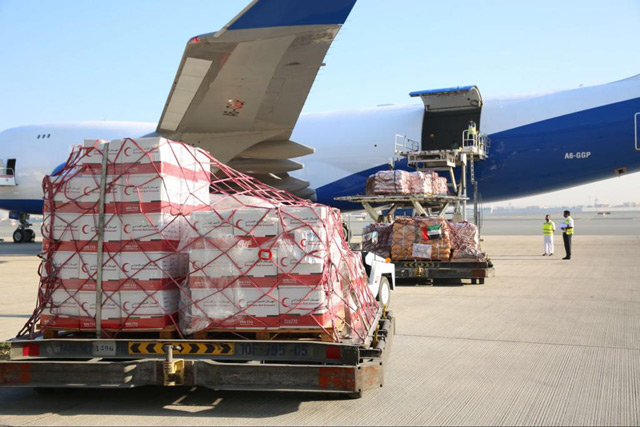 An aircraft carrying 100 tonnes of food supplies arrived in the capital of Mali, Bamako, as a gift from the UAE to improve the country's humanitarian conditions, as per the directives of President His Highness Sheikh Khalifa bin Zayed Al Nahyan.
The donation is also supported by His Highness Sheikh Mohammed bin Rashid Al Maktoum, Vice President, Prime Minister and Ruler of Dubai, and His Highness Sheikh Mohamed bin Zayed Al Nahyan, Crown Prince of Abu Dhabi and Deputy Supreme Commander of the UAE Armed Forces, and is being monitored by H.H. Sheikh Hamdan bin Zayed Al Nahyan, Ruler's Representative in Al Dhafra Region and Chairman of the Emirates Red Crescent, ERC.
The delivery of the aid coincides with the visit of a senior UAE delegation to Mali, led by H.H. Sheikh Abdullah bin Zayed Al Nahyan, Minister of Foreign Affairs and International Cooperation.
The food aid provided by the ERC were drawn from its strategic reserves of rescue materials in Jebel Ali, which was monitored by Princess Haya bint Al Hussein, United Nations Ambassador for Peace and President of the International Humanitarian Services City in Dubai and Wife of the Ruler of Dubai.
An ERC delegation is currently visiting Mali to supervise the distribution of the food aid to individuals in need, and to assess the local humanitarian conditions and the country's future humanitarian and development requirements.
Mohammed Ateeq Al Falahi, Secretary-General of the ERC, said that the UAE is helping Mali to overcome its current humanitarian conditions, and to continue the efforts of the UAE and its leadership to support friendly countries while promoting the nation's humanitarian and development initiatives in Mali over previous years.
The ERC expressed its appreciation for its current partnership with the International City of Humanitarian Services in Dubai, adding that their cooperation helps to promote the UAE's regional and international role in the humanitarian and development sector.
The total value of the ERC's humanitarian and relief programmes and development projects over the past three years has reached AED22,389,710, with development projects accounting for AED 11,370,725 and relief programmes for AED11.19 million.
Follow Emirates 24|7 on Google News.