UAE Ambassador attends graduation of 43 Syrian refugees in Lebanon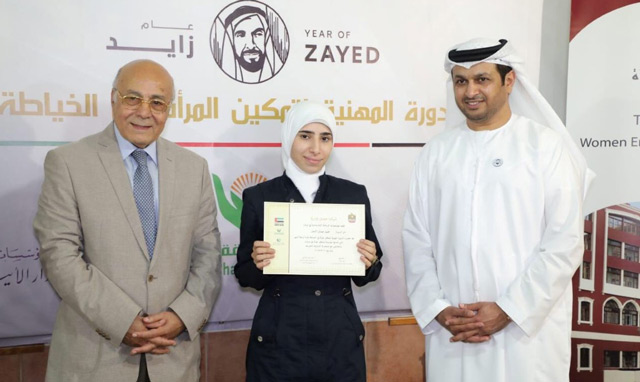 Hamad Saeed Al Shamsi, UAE Ambassador in Beirut, witnessed the graduation of 43 female Syrian refugees in Lebanon, who attended a vocational course on women's empowerment, which was supported by the Sharjah Charity International, SCI.
The Women's Empowerment Institution in Beirut, a branch of the Social Welfare Institutions, SWI, in Lebanon also taught the women the fundamentals of sewing for four months and provided them with sewing machines, to enable them to make a daily living.
Dr. Khaled Kabbani, Director-General of the Women's Empowerment Institution, praised the initiative, which will enable the women to help their community, as well as the UAE's efforts to promote equality and ensure the rights of women.
During the celebration, which was attended by members of the training team, Dr. Kabbani highlighted the UAE's leading role in Lebanon in preventing division and discrimination.
The UAE's ongoing assistance has supported the country's efforts to strengthen and empower women, enabling them to support their families, he added.
Dr. Kabbani thanked the UAE's leadership and people and the SCI and its members while wishing that the UAE will continue to provide assistance.
Thanking the institution, Ambassador Al Shamsi said, "Women are the pillars of the community and key partners in advancement, development and construction. The UAE and its wise leadership aim to support women and enable them to help their communities."
"This graduation coincides with the UAE's celebration of the Year of Zayed, the founding leader who treated women fairly and realised their role and importance, and encouraged them to employ their skills and abilities to serve their families and community," he added.
Follow Emirates 24|7 on Google News.