UAE-based Indian researcher develops 'detox' for fruit and vegetables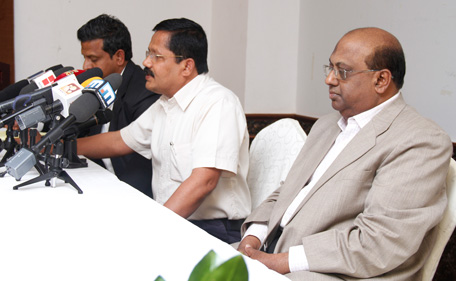 A UAE-based Indian doctor has come up with a herbal product that he claims can remove harmful chemicals and pesticides used to grow fruit and vegetables and keep them fresh.

Dr K Mohan, who has been working as a manager with a fruit and vegetables trader in UAE for nearly 20 years, says 'Detox', the new product that he developed after four and a half years of research, has been registered for permanent patent /intellectual property rights.

Meanwhile, Detox, extracted from 29 Indian herbal and traditional medicines, has received a temporary patent from US-based Maxwell Patents which is doing the documentation for claiming permanent patent rights for the product. In the UAE, the detoxicant has been tested for approval and will be available in the market later.

According to Dr Mohan, the growing number of cases of cancer, heart disease, diabetes and many other ailments has been at least partly attributed to excessive use of pesticides and other chemicals to grow fruit and vegetables and keep them fresh. A lot of deadly pesticides are regularly used from the day a crop is planted to the day when the vegetable or fruit lands on the consumer's dining table.

"Working as the manager of a vegetable trading company in UAE, I realised the presence of heavy doses of pesticides and chemicals in fruit and vegetables imported from different parts of the world. Since most of these fruit and vegetables reach here in containers, preservative chemicals are used to keep them fresh on arrival. It takes a minimum of twenty days for a vegetable container to reach the market," says Dr Mohan.

"These preservatives are in addition to the fertilisers and other chemicals used to produce fruit and vegetables on commercial scale. If you stand in front of a shipping container with fruit and vegetables for just 15 minutes after opening it, you may fall unconscious because of the strong smell of these chemicals. Even though they are tested randomly, these vegetables and fruit contain deadly doses of chemicals and pesticides," he says.

Even children are becoming diabetic by eating such vegetables and fruit, says Dr Mohan, who has studied naturopathy and alternative healing techniques and has a doctorate in hypnotherapy.

Dr Mohan says Detox should be mixed in water and fruit and vegetables kept in the solution for three hours for the pesticides and chemicals to be absorbed by it. He says 200 grammes of Detox is enough clean 3kg of fruit or vegetables.

He started thinking about the problem of toxins in food products while working as manager of a fruits and vegetables trading company in Al Ain and took six years' leave to do research in this field. 'Detox was developed as a result of this research," he says.

"While pesticides are present on the exterior of vegetables and fruit, chemical fertilisers used to grow them will be present inside them. Detox not only clears the pesticides from the outside but also absorbs them from the interior of the fruit or vegetables, "he said.

Dr Mohan says he developed Detox using the traditional methods of tribal people in India who use special herbs to remove poison from people bitten by snakes.

Dr Mohan, who hails from Kanjangadu in Kasargod district of Kerala, said his employer had helped and encouraged him to develop this product in view of the public interest involved.

"It is commonly argued that eating a lot of fruit and vegetables will keep you healthy. But eating fruit and vegetables containing pesticides and chemicals can be more harmful than eating non-vegetarian food. There should be more public awareness about the harmful effects of pesticides and chemicals," Dr Mohan added. "I have not developed Detox with a commercial purpose since it will be as cheap as common salt, he added.
Follow Emirates 24|7 on Google News.