UAE-based Indian youth plays 27 musical instruments in an hour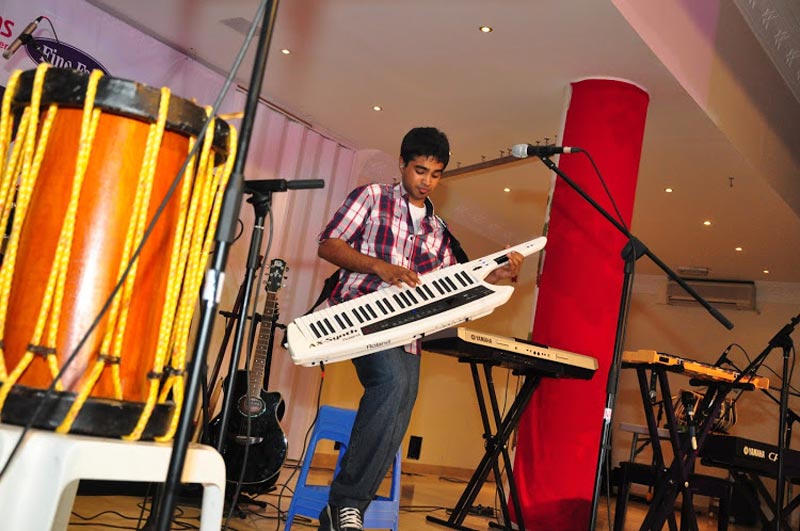 UAE-based Indian Ebin Rec George, a 20-year-old bio-technology graduate of Manipal University Dubai, has stunned an audience of over 3,000 people at the Worship Hall, Sharjah by playing 27 musical instruments continuously for one hour.

The youth played the instruments during his 'Nothing is Impossible' concert organised as part of his attempt to enter the Guinness Book of Records, the Limca Book of Records and several other world record books.

The young man from Pallom near Kottayam in the southern Indian state of Kerala played one instrument after the other continuously, amidst applause from the audience which included a panel of judges who had come to certify the authenticity of his performance.

The 27 instruments that Ebin played included violin, saxophone, xylophone, Arabic drums, accordion, lead guitar, recorder, piano, cajun, melodica, keyboard, djemble, Irish chanter, congo, kalimba, tambourine, shakers, timbales, bass guitar, harmonica, dhol, keytar, tabla, drums, chenda and acoustic guitar.

The programme was inaugurated by the worship centre's director Wilson Joseph and attended by the director of Dubai Academic City Dr Ayoob Khasim, Indian Consulate's Economic Affairs Consul Tiju Thomas, Manipal University Director Dr B Ramji, and other dignitaries.

"Some of the musical instruments that Ebin played were new to me. I was hearing their names for the first time," said Sajan Veloor who was in the audience.

Procedures to help Ebin enter the world record books are being pursued.

Follow Emirates 24|7 on Google News.