UAE Children's Play ranks 1st regionally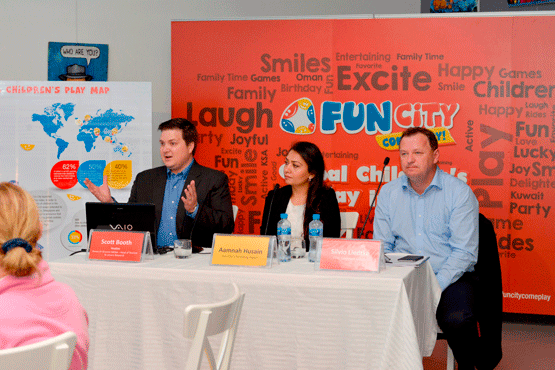 Results of the fourth edition of Fun City Children's Play Index positioned the UAE at the first rank regionally as the best country with positive play habits in children among the region in all the three age-groups (2-5 years old), (6-8 years old) and (9-12 years old).
Globally, it ranks third in the 9-12 age-group and fourth in 2-5 and 6-8 age-group.
This ranking in the age group 9-12 years highlights the impressive effort and work by the government illustrating a clear focus in spreading nationwide positive awareness about the importance of play for children's overall development in UAE by bringing about a balance between scholastic and leisure activities.
The fourth edition of Fun City Children's Play Index includes research data from developed global nations such as UK, Australia, Sweden, Singapore and China in addition to the regional countries of UAE, Oman, Bahrain and Qatar.
The combined index score for the surveyed GCC countries for the three age-groups is 57 for 2-5 years old, and 45 for 6-8 years old as well as 9-12 years old.
The 4th edition of the play index has been extended to global territories in an endeavour to understand children's play behaviour, social factors and the curricular mandates adopted in these globally advanced countries, resulting in a robust and scientific benchmark that experts, professionals and parents can refer to for the improvement of their families and society in general.
The Index is computed based on scientifically concluded qualitative inputs from nine psychologists and school counsellors, weighing the significance of activities undertaken by children from different age-groups and their related impact on children's development translated in "influencing powers".
In addition, quantitative data of playtime activities were analysed form more than 2,235 mothers of children between 2-12 years of age residing in United Kingdom, Sweden, Singapore, China, Australia, United Arab Emirates, Qatar, Bahrain and Oman.
This community awareness initiative by Landmark Leisure, the entertainment division of Landmark Group, reinforces the importance of play and its benefits on the well-being and happiness of children and it is in line with the UAE's mission of achieving a happier society.
Silvio Liedtke, Chief Operating Officer of Landmark Leisure, said: "Fun City's faith and devotion in creating incomparable play opportunities for the happiness and better development of children in our regional societies has prompted us to plunge into international ones with this fourth edition and have a clear ranking on the Play Index for our region mapped with global territories. This ranking does not only provide a comparative but it also evidently throws up areas of improvement and opportunities of merging play more frequently in the daily lives of our children from early childhood periods".
Aamnah Husain, Qualified Psychologist and Parenting Expert to Fun City, said: "This initiative has prompted a huge social awareness and change towards one of the most basic and essential needs of a child; "Play". The 4th edition of the Fun City Children's Play Index brings in lots of knowledge and clarity to parents as it is drawing parallels and contrasts between children's lifestyle and play activities in our region and those from other countries in Asia, Europe and Australia."
Follow Emirates 24|7 on Google News.