UAE continues relief efforts to help Rohingya refugees in Bangladesh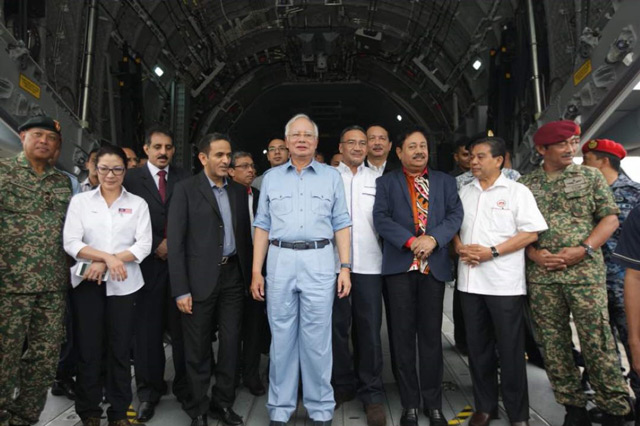 A UAE-Malaysian humanitarian aircraft took off from Kuala Lumpur on its way to the camp in Cox's Bazar, Bangladesh, carrying relief supplies for Rohingya refugees, as part of the joint efforts of the UAE and Malaysia to help the refugees.
Khalid Ghanem Al Ghaith, UAE Ambassador to Malaysia, Mohammad Najib Tun Abdul Razzaq, Malaysian Prime Minister, and Hishammuddin Hussein, Malaysian Minister of Defence and Minister with Special Functions at the Prime Minister's Department and Chief of Staff, attended the plane's departure.
As part of the directives of President His Highness Sheikh Khalifa bin Zayed Al Nahyan, the UAE has offered humanitarian assistance, including food and basic supplies, to ease the suffering of the Rohingya refugees in Bangladesh, through the Emirates Red Crescent, ERC, and the relief aid offered by the Khalifa bin Zayed Al Nahyan Foundation to Rohingya refugees in Malaysia, valued at US$1 million.
The Vice President, Prime Minister and Ruler of Dubai, His Highness Sheikh Mohammed bin Rashid Al Maktoum, ordered the departure of an aircraft loaded with urgent relief assistance last October, as well as the provision of additional aid to provide for the basic needs of over 7,600 refugee families.
Equipping the field hospital at Cox's Bazar is also an execution of the directives of His Highness Sheikh Mohamed bin Zayed Al Nahyan, Crown Prince of Abu Dhabi and Deputy Supreme Commander of the UAE Armed Forces, to provide medical equipment, ambulances, SUVs, mobile clinics and other essential supplies.
The hospital was launched yesterday in Bangladesh to ease the suffering of the Rohingya refugees, in line with the directives of the wise leadership.
Follow Emirates 24|7 on Google News.