UAE developers launch 5 projects worth Dh3 billion in one day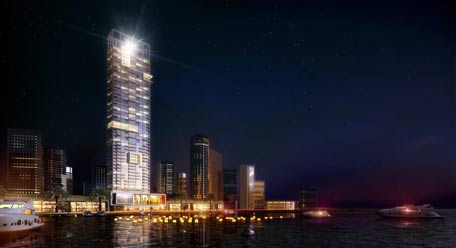 Five new projects worth Dh3 billion were launched in the UAE on Tuesday, indicting the growing confidence of the industry and investors in the country's real estate market.

Four of the projects were launched in Dubai, while one was unveiled in Fujairah.

Omniyat Group, a Dubai developer, broke ground on Dh600 million 'Anwa' – its first project - in Dubai Maritime City with the company chairman planning to double its investment portfolio to Dh24 billion from Dh12 billion in the next five years.

"Real estate is a long term investment and you need to focus on the fundamental. I think Dubai has demonstrated in very good times, in difficult times ad again in very good times that we are in today that the fundamentals of Dubai are very strong," Omniyat Group's Executive Chairman Mahdi Amjad.

"The real estate market is very mature and over the last 10 to 15 years it (the market) has seen different cycles which has made the maturity by far better."

Amjad ruled an oversupply in the market, stating, "I think we will see a sustainable growth rather than large jumps that we have seen over the last two years in the price point and what will drive (the market) is the fundamentals of this place."

The developer has appointed Kele Contracting as the contractor for Anwa, a 48-storey tower, with Al Ghurair Contracting & Engineering doing the enabling works.

Amjad claimed that tower was fully funded, with the company no longer planning to launch any project unless they had 70 to 80 per cent finance in place.

The off plan sales commence from Wednesday, with the starting price set at Dh1800 per square feet. The project is planned be completed by 2017.

Al Habtoor launches 3 projects

Al Habtoor Group, one of Dubai's largest conglomerates, announced three new projects worth over Dh2 billion.
Al Habtoor Polo Resort & Club (Supplied)

"Work is already underway for the three developments – Dh993 million Habtoor Polo Resort & Club and a combined Dh1.02 billion for Metropolitan Sheikh Zayed Road and Oasis Villas," Khalaf Ahmad Al Habtoor, Founder and Chairman of the Group, said.

The Al Habtoor Polo Resort & Club, which will include a five-star hotel with up to 136 rooms and 162 luxury bungalows, will be completed by 2017. In addition, there will be a polo club, a state-of-the-art polo academy, and a riding school with 500 stables.

The six million square foot development, designed by British architects WS Atkins & Partners, is located adjacent to Emirates Road and the Dubai-Al Ain Road, and within close proximity to Zayed University.

The Metropolitan Sheikh Zayed Road, a four-star boutique hotel, is expected to be completed in 2016 and will have a total of 334 rooms and suites.

The hotel has been designed by Khatib & Alami, will house the "Red Lion traditional English pub."

Oasis Villas, a residential development next to the Metropolitan Sheikh Zayed Road, will consist of 74 villas. It is due for completion in 2016.

"In total our investments in the UAE over the past 24 months have amounted to in an excess of Dh15 billion. This shows how much we are growing," Al Habtoor said.

Al Taif launches project in Fujairah

Al Taif Investment, a joint venture between Dubai Investments and Fujairah Investment Establishment, the investment arm of Fujairah Government, launched Dh400 million Fujairah Business Centre project.
Officials at the groundbreaking ceremony for Fujairah Business Centre. (Supplied)

The project consists of two towers and will include a 19-level office tower and 19-level Courtyard by Marriott hotel with 228 rooms and apartment units. The developer aims to complete the project in three years.

"Through this project, we are seeking to capitalize on the investment potential and exploit the diverse business opportunities that Fujairah offers," said Khalid Bin Kalban, Chairman, Al Taif Investment, who is also the CEO of Dubai Investments.

Al Taif Investment, launched in 2007, is 60 per cent owned by Dubai Investments, while Fujairah Investment Establishment holds the remaining 40 per cent.
Follow Emirates 24|7 on Google News.