UAE drones to assess Nepal damage… a first worldwide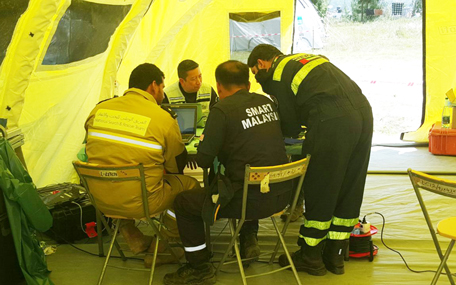 The UAE Search and Rescue Team at the Ministry of Interior, started its humanitarian mission in providing logistic support to the international relief operation to aid victims of Nepal earthquake, according to Lt. Colonel Mohammed Abdul Jalil Al Ansari, Head of the UAE Search and Rescue Team, Director-General of Civil Defense in Abu Dhabi.

The recently established Air Support Department at the Security Support Directorate General at the General Secretariat used drones to assess damaged buildings. This is the first time drones are used in search and rescue operations and field scanning in the world.

Lt. Col. Al Ansari explained that these drones are a part of the team's key equipment in search and rescue operations, as they provide a wide vision range of the site and help determine the dangers and the ideal entrances and exits.

Al Ansari pointed that the team's mission in Nepal, from the moment they arrived was focused on providing medical services, which included examining patients, supporting hospitals with the latest medical tools and equipment, as well as training Nepalese doctors and nurses to introduce the best methods in categorising different medical conditions.

This comes as an embodiment of the keenness of the UAE to help the needy and rescue the victims of natural disasters around the world as well as helping the brotherly and friendly nations.

Al Ansari pointed that the team provided logistic support to the international search and rescue teams, the Emirati Red Crescent, Khalifa bin Zayed Al Nahyan Foundation, Mohammed Bin Rashid Al Maktoum Foundation, and other UAE governmental institutions. In addition, the team provided technical support to the UN's International Search and Rescue Advisory Group (INSARAG), by providing the latest satellite communication equipment, as well as highly trained teams to manage the operations' room.

He mentioned that the UN is conducting its search and rescue operations through the UAE Search and Rescue Team's camp, benefiting from the high field skills and advanced equipment to handle and survive disasters. He pointed that 76 teams are participating in earthquake relief operations in Nepal, including 16 teams accredited by INSARAG.

As per international statistics an estimated 8 million people are affected by the earthquake in Nepal; 4.2 million need clean drinking water; 3 million need food; about 160,786 houses are completely damaged and 143,673 houses are partially damaged. According to latest media reports the toll has crossed 7,000 with about 14,063 people injured.
Follow Emirates 24|7 on Google News.