UAE Experiences Rainy, Cloudy Weather as Temperatures Drop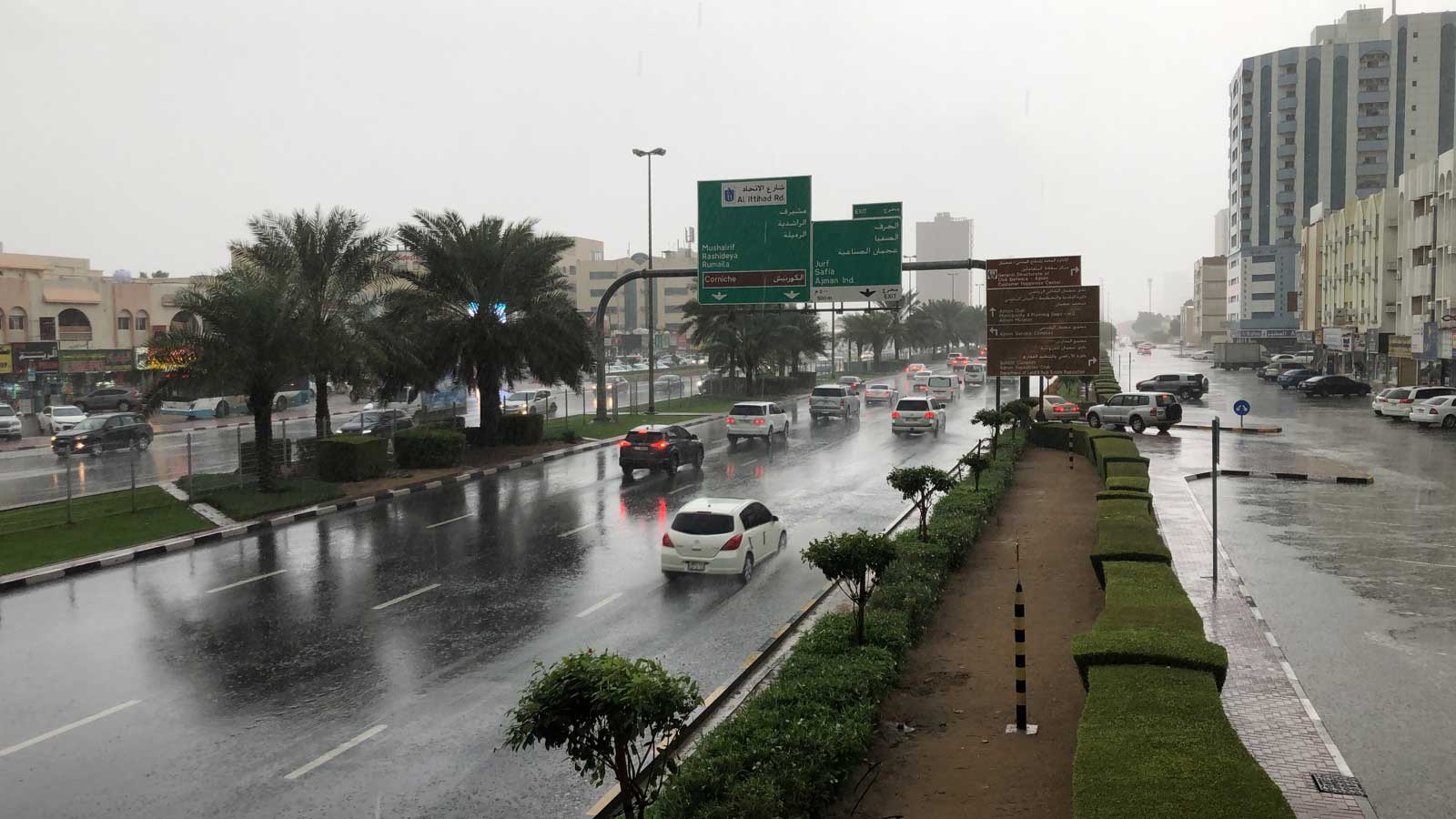 Today, the United Arab Emirates (UAE) experienced cloudy and rainy weather, with cumulus clouds leading to heavy, medium, and light rains in various areas, especially along the coast, in the north, and in the east. These storms brought a noticeable drop in temperature and moderate to strong winds, with the Arabian Gulf and Sea of Oman experiencing medium to high waves.
Heavy and medium rain caused valleys to flow in Isfni in Ras Al Khaimah and Wadi Sahm in Fujairah, while heavy rain also fell on Kadra, Al-Aqah, Dhadna, and Dibba in Ras Al-Khaimah, Sakkam in Fujairah, and the city and port of Fujairah. Moderate rain was reported in Jabal Al-Hin and Al-Farfar, while light to medium rain fell in Lahbab, Sih Al-Salam, and Oud Metha in Dubai, as well as on the Emirates Road towards the Global Village, and heavy to medium rain fell on Ras Al-Khor and Sih Shuaib in Ras Al Khaimah.
Light rain was also reported in Al Shamkha, Riyadh, Abu Dhabi Corniche, Ghantoot, Madinat Khalifa, Al Shawamekh, and Mussafah in Abu Dhabi, and Al Amerah in Al Ain and Madinat Zayed in the Al Dhafra region. Medium rain fell in Sharjah in Al-Khan, Al-Rahmaniyah, Muwailih, Khorfakkan, and Wasit, and in Murbah in Fujairah, while moderate rain fell in Shaam and Habhab in Ras Al-Khaimah. Light to medium rain was also reported in Al Tawyin in Fujairah, Al Jazeera Al Hamra, Jebel Jais, Al Rams in Ras Al Khaimah, Umm Al Quwain, Ajman, Dibba Al Hisn, and Al Ghubaiba in Sharjah.
The National Center of Meteorology predicts that today will be partly cloudy with a chance of rain in some coastal, northern, and eastern areas, and humid at night and tomorrow morning with the possibility of light fog in some coastal and inland areas. Winds will be light to moderate and may reach speeds of 40 km/h, and the sea will have medium to high waves in the Arabian Gulf and Sea of Oman. On Monday, the weather will be partly cloudy and humid at night and Tuesday morning in some coastal areas, with northwesterly and northeasterly winds turning southeasterly.
The highest temperature in the country yesterday was recorded in Hamim in the Al Dhafra region at 29.3°C at 3:00 PM, while the lowest temperature was recorded in Jebel Jais at 7.1°C at 3:45 AM UAE time.
Follow Emirates 24|7 on Google News.