UAE gets tough to tame menace of wild 'pets'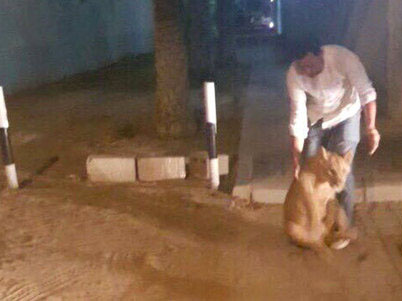 Pictures of a lioness on a midnight stroll in Dubai's residential neighbourhood of Al Barsha acted as yet another wakeup call for many community members.
While Dubai Police confirms investigations are underway to find out how the lioness entered the UAE, this is not the first time the country has witnessed endangered wildlife on the prowl through its concrete jungle.
Wolves caught and moved to safety. (Wam)
Even as the UAE has been getting tough on trade and sale of exotic animal, unscrupulous online adverts offering illegal African cheetahs, tiger cubs and white lions as pets still sometimes find their way to online forums and social media.
In an online post uploaded on January 21, 2016, Emirates 24|7 came across an individual seeking a "new home for my adorable tigers, cheetahs, lion cubs."
Even as a handful of residents evidently continuing to flout the strict rules that are in place to curb such a menace, here are eight times UAE authorities acted to tame wildlife on the prowl in country's urban jungle:
Cheetah goes for a swim: In early 2011, a cheetah scare had residents in Sharjah locking themselves in their home when the wild cat was found swimming ashore from Khalid Port before seeking refuge in a nearby mosque.
The two-year-old female was captured and sent to the Sharjah Desert Park.
Karamah capture: Not to be confused by the Karama district in Bur Dubai, in May 2011, residents of Abu Dhabi were terrified when a 10-month-old cheetah was discovered roaming the streets of Al Karamah.
The injured animal was said to have escaped its owner, with a chain around its neck and malnourished. The cheetah cub was captured by authorities and handed over to the Abu Dhabi Wildlife Centre.
JBR's joyriding animals:
The year 2012 was a big one for wildlife sighting on UAE roads, which started off with two separate incidents of a lioness and a tiger, both pictured hanging out of respective car windows on the Jumeirah Beach Residence stretch in February.
Tiger, tiger, hanging out…A few weeks later, a similar incident was captured on camera, with a SUV streaking down the roads with a full size tiger hanging out the window. Social media erupted in Facebook updates and tweets as the picture of the joyriding tiger spread like wildfire and even started to trend on Twitter.
Cheetah in a home in Al Ain: Nearly a month after JBR's joyriding lioness and tiger, an escaped pet cheetah was captured after it broke into an Emirati family's home. The wild cat was initially spotted roaming the streets of Al Yahar North, near Al Ain, before it broke into a home and started attacking the pets. Authorities said at the time that the five-month-old cheetah was reported to have run away from his Emirati owner. The animal was captured and transferred to Al Ain zoo, but died shortly after.
NYE tour:
On New Year's Eve that year, the crowded residential area was once again a playground for a joyriding wild car, this time, seated in the back of a black SUV. Eyewitnesses was unable to identify whether it was a cheetah or a leopard this time.
Mom, it's a lion in the backseat: In 2014, a video uploaded on YouTube garnered over half a million views within hours of it appearing, which saw a lion pacing in the backseat of a car stuck in Dubai traffic.
The grainy video filmed by someone sitting in traffic behind the SUV, offered up a sharp image of the wild animal as its face pushes up against the rear windshield.
Lioness on a midnight stroll: Last Thursday, a lioness was caught roaming near Al Barsha late evening. Police patrols, along with the Veterinary Services Department members of Dubai Municipality, arrived at the site and surrounded the lioness. Authorities have stated the matter is under investigation and no one was injured. It is claimed the big cat had escaped from its owner's house.
Follow Emirates 24|7 on Google News.