UAE invents device to catch fake passport holders of any country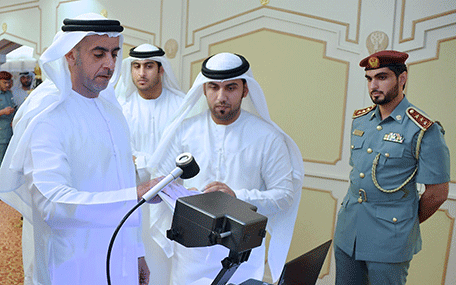 Lt. General Sheikh Saif bin Zayed Al Nahyan, Deputy Prime Minister and Minister of the Interior, on Tuesday viewed an advanced counterfeit passport detector, invented by Sergeant Amer Al Jaberi of the Interior Ministry's General Directorate of Residency and Foreigners Affairs.

During his visit to Abu Dhabi Police HQ, the minister was briefed about the new detector which will enhance security and police operations at land and sea ports and enhance the UAE government's vision for becoming among the world's safest countries.

The new device is being hailed as the first-of-its-kind detector that can read all ordinary and electronic documents issued by any country.

The inventor said that the production cost of the new device is low. He also noted that it is made of environment-friendly materials and has a powerful built-in microscope that can show objects 20 times clearer, compared to similar microscopes.

Using various applications, the multi-functional detector can also read air tickets, barcodes, and ID cards.
For his part, the inventor explained that the device requires no electrical connections, and is made of "eco-friendly" materials; which maintains the occupational safety of employees.
"It is a low-cost device that includes a microscope, which provides a magnification of up to twenty times larger and clearer of the original image than in similar devices," he said.
He added that the new device has a scanning feature to read airline tickets, barcodes and international ID documents; in addition to a number of integrated properties and applications, unlike other devices which can only perform one task at a time.
Follow Emirates 24|7 on Google News.