UAE joins world in marking Earth Hour on March 25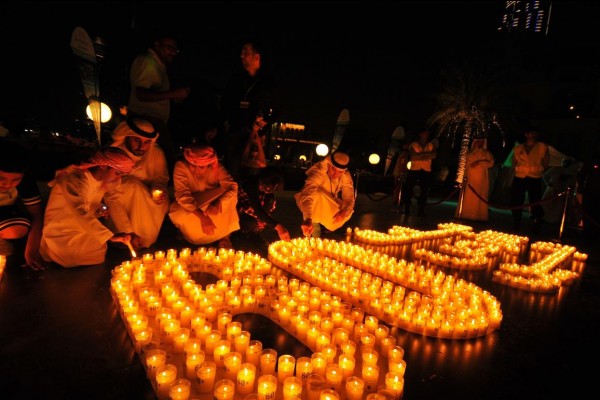 Ten years after the world's first Earth Hour in Sydney put the spotlight on climate change, the landmark movement of the World Wide Fund for Nature (WWF) is set to once again unite millions of people around the globe. The world's largest grassroots movement for the environment, which mobilises individuals, communities and organisations globally to do their part to help check climate change, will take place on 25th March and is being led locally by Emirates Wildlife Society-WWF (EWS-WWF-).
Individuals and organisations in the UAE have been invited to join EWS-WWF, and millions of people across the planet, to support #EarthHourUAE by switching off unnecessary lights at 8.30pm on 25th March. EWS-WWF will be leading its 'Green Goals' campaign as it asks social media users to share their promises on how they intend to play a part in tackling climate change. Users will be asked to use the hashtag #EarthHourUAE when making their pledges online.
Long time EWS-WWF partner Dubai Electricity and Water Authority (DEWA) will host a festival at Bay Avenue Park in Business Bay from 4pm onwards, where the world's tallest tower, Burj Khalifa, will switch off its lights and participate in the Earth Hour walk.
The Environment and Protected Areas Authority (EPAA) will also host a public event starting at 5.30pm on the Al Majaz water front. Other events include a presentation focusing on environmental awareness, a bicycle ride, a wall painting of the Earth Hour logo, along with competitions and workshops.
Other organisations marking Earth Hour include Sheikh Zayed Grand Mosque – Abu Dhabi, HSBC, Environment Friends Society, the Jamjar Dubai, Sustainable City, among others. Yousif Al Obaidly, Director-General of Sheikh Zayed Grand Mosque Centre, Abu Dhabi, noted, "As a global iconic landmark, leading and supporting positive community initiatives in support of the well-being of our planet is paramount to us at the Sheikh Zayed Grand Mosque. Leading by example, this was a key consideration when it came to the design and building of our mosque, which was completed with the use of local and sustainable materials and created to allow in as much natural light as possible to help reduce energy consumption. Through our active participation in Earth Hour, we hope to raise the level of environmental awareness throughout society, driven by our commitment to community responsibility and the support of our national leaders' directives to achieve sustainable development across the UAE, and ultimately reduce our impact on the planet."
"Humanity today is facing unprecedented levels of climate change that threaten both present and future generations. Collaboration across countries, governments, business and society is necessary if we are to begin to halt this trend. Earth Hour is a poignant reminder and a symbolic action that we can all participate in, which highlights the importance we each play in contributing to a sustainable UAE and planet," said Laila Mostafa Abdullatif, Deputy Director-General, EWS.
Khawla Al Mehairi, Vice President of Marketing and Corporate Communications at DEWA, added, "DEWA has consistently supported Dubai's efforts to raise public awareness on various environmental issues by adopting and launching several initiatives and projects. Our aim is to increase awareness about the importance of conserving and preserving our natural resources. As part of our commitment, DEWA will implement, for the second consecutive year, its Carbon Neutral Emissions following last year's successful zero-carbon Earth Hour celebrations."
Follow Emirates 24|7 on Google News.