UAE launches 'No to Begging' campaign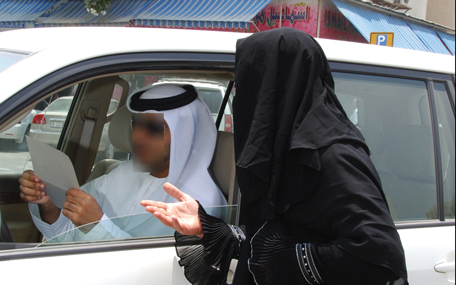 The Ministry of Interior (MoI) on Monday launched the 'no to begging' campaign that aims to raise public awareness regarding the most appropriate ways to handle beggars.

The campaign highlights that begging is a socially uncivilized nuisance that detracts from the civilized image of the UAE; and also informs citizens and residents that the likelihood that beggars are committing fraud and swindling money from those that are sympathetic towards this act are high.

Lt. General Saif Abdullah Al Sha'far, Undersecretary at the Ministry of Interior, called upon the community to cooperate with police entities by reporting beggars. He noted that the main priority of the police is to address this societal scourge through community partnership.

"The campaign is being implemented by the Security Media department at the General Secretariat of the Office of Deputy Prime Minister and Minister of Interior," Lt. General Al Sha'far said. "Without community partnership, the efforts of this campaign cannot be achieved. Our first line of defense against this societal nuisance is when our community takes it upon themselves to report the actions of beggars."

"Beggars rely on various schemes and tricks to take advantage of the kind hearts of citizens and residents. They abuse the enthusiastic nature of those who enjoy providing charitable deeds by lying and deceiving. This behavior may seem insignificant, however it strongly impacts society and security in a negative way," he said.

Additionally, Lt. General Al Sha'far warned people of the methods that beggars use. "Some beggars will present medical documents stating that they, or one of their relatives, are ill," he explained. "Many of them claim that they have no means of support as they beg for money; others try to incite sympathy by begging on the streets or near mosques. Sometimes beggars will visit neighborhoods and homes under the guise of asking for help and end up committing thefts or other crimes."

Lt. General Al Sha'far encouraged all members of society to report beggars in Abu Dhabi by calling the Police Operations Room at 999, or the Aman Service at 8002626. For other emirates, reports should be directed to the following: Dubai, 800243; Sharjah, 065632222; Ras Al Khaimah, 072053372; Ajman, 067401616; Umm Al Quwain, 999; and Fujairah, 092051100 or 092224411.
Follow Emirates 24|7 on Google News.