UAE mom delivers at 12:01am on 01.01.12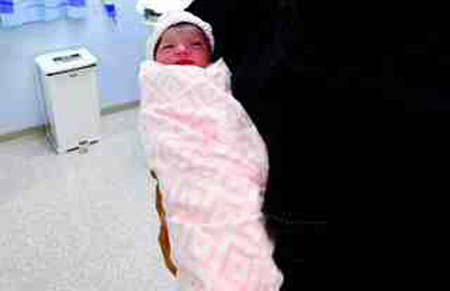 The UAE recorded its first birth in 2012 when an Emirati mother gave birth to a girl in Abu Dhabi just in the first minute of the new year.
Mariam was delivered at the Corniche gynaecology hospital and doctors, quoted by the semi-official daily 'Al Ittihad', said she came to life just in the first minute of 2012. Her father said he was very happy to have Mariam.

"I pray to God that the birth of my daughter at such a distinct time and date will always be a good omen for her and her family," Hamad Al Shamsi said.
Also, just minutes before the end of 2011 and start of 2012, an Emirati boy was born in Abu Dhabi at the same hospital.

His father said the boy, Abdullah, his first child, was born in the same year when he graduated from the university and got married.

"I hoped that he would be born at the start of 2012 but he came just before the start of the year…but I am very happy," he said.

In the eastern oasis town of Al Ain, a boy named Saif was born to Omani couple at the Al-Ain government hospital. "What a coincidence…I myself was born on the last day of 1968," said his father, Abbas Abdul Raziq.

'Al Ittihad' said Dubai had its first birth in 2012 when a girl was born to Egyptian couple at Al Wasl Hospital.
ALSO READ:
Follow Emirates 24|7 on Google News.