UAE mom shatters 3 Guinness records; raises over Dh50,000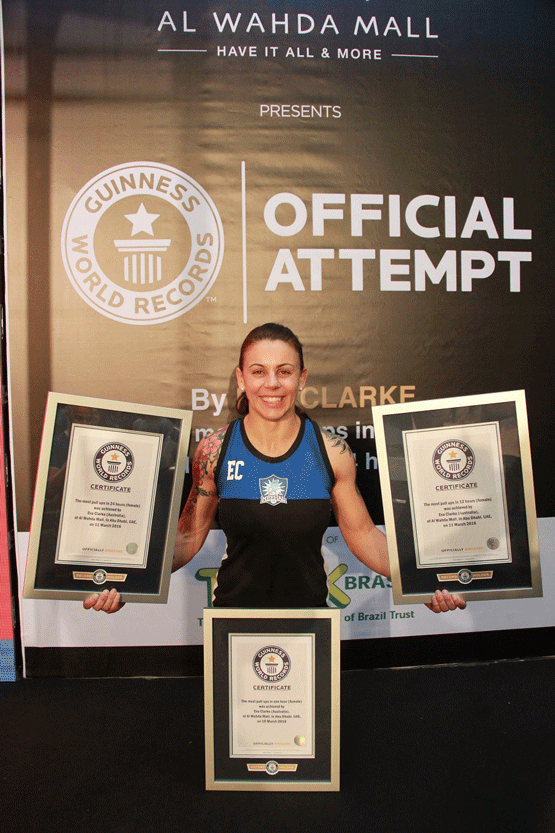 Eva Clarke, Australian mother of 3, added three more Guinness World Records titles to her name.
Abu Dhabi's fitness icon achieved the records at the Al Wahda Mall in Abu Dhabi.
UAE's fittest female officially broke the Guinness World Records titles in both the Female and Male categories for the most pull-ups in 24 hours at the Al Wahda Mall Central Atrium on March 10 and 11.
It took Eva a record time to break each of the records as she achieved 725 pull-ups in the first hour, breaking the previous record of 700.
For her second record, Eva achieved 2,740 pull ups in 12 hours. For the 24 hours' record, Eva broke the previous record of 3,500 in 18.5 hours and went on to secure 3,737 number of pull-ups in 24 hours.
Eva Clarke, now ten-time record holder, undertook 24 hours' worth of dedication and commitment, to change people's life at charity organisation – Task Brasil.
The NGO is a cause to fight against countless children onto the streets: domestic violence, being orphaned or abandoned, or simply belonging to dysfunctional families.
"We salute the dedication and passion with which Eva Clarke has undertaken this challenge. We are very proud of her achievements and the accolades she brings herself," said Mohammed Nauman Thakur, General Manager, Al Wahda Mall.
"The donations were accepted onsite and online. We are very pleased to have raised over $14,600 (Dh53,625). All proceeds from this fund-raiser goes to charity organization "Task Brasil" – where a major number of teenage mothers and their babies and their families have benefited from the facilities and services provided," he said.
Follow Emirates 24|7 on Google News.