UAE NRI in race with Microsoft CEO Nadella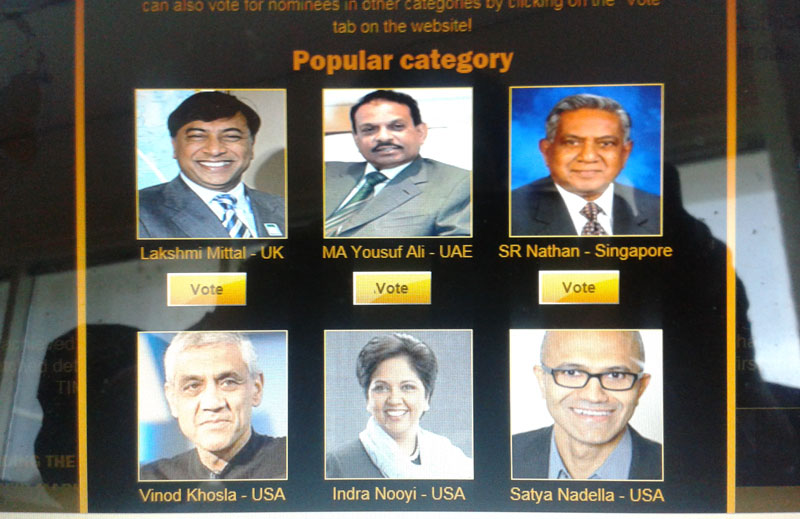 Times Now, a leading Indian television channel, is running a campaign to select the most popular Non-Resident Indian (NRI) from around the world, and the six business tycoons have been shortlisted for the final verdict, including a UAE-based Indian businessman.
The TV channel campaign to recognise the most successful NRI from around the world, is running like a reality show, with the channel available in 75 countries telecasting the various phases of the election or selection process by a jury of six eminent Indians.
Many NRI entrepreneurs, social workers and philanthropists are campaigning to gain public voting to become the 'NRI of the year'.
MA Yousuf Ali, Managing Director of Emke Group and Lulu Hypermarket chain, is the only nominee from the Middle East for the popular category running against top notch NRIs such as SR Nathan, former President of Singapore; Laxmi Mittal, the steel magnate and one of the richest Indians in the world; Vinod Khosla, Head of Sun Microsystems & US-based Venture Capitalist; Indira Nooyi, Pepsi – Global CEO; and Sathya Nadella, CEO, Microsoft. The winner will be decided on the number of votes received by each contestant.
The first edition of 'Times Now NRI of the Year Award' is open to any NRI, Overseas Citizen of India (OCI) and Person of Indian origin (PIO) who has resided in USA, Canada, Singapore, UK, Middle East including UAE, Saudi Arabia, Bahrain, Qatar and Kuwait for a minimum of 2 years.
The five-tier evaluation process is managed by Ernst & Young. The various episodes of the awards including winner profiles will be broadcast on Times Now in its global feeds in 75 countries.
The five-member jury comprise KC Singh, former Secretary of the Ministry of External Affairs, Government of India; Dr Aftab Seth, former Indian Ambassador; Derek O Brien, Member of Parliament from the Trinamool Congress; Suhel Seth, Founder and Managing Partner of Counselage India; and Captain R Gopinath, Member of Aam Admi Party, and founder of Air Deccan.
Awards will be given in six categories including entrepreneurs, professionals, philanthropy/social good, art and entertainment, and my India. UAE contestants for the 'philanthrophy category' include K V Shamsudeen; Keshavan Muraleedharan; Navin Kumar Kapoor and Thumbai Moideen.
UAE contestants in the 'professionals category' include Y Sudheerkumar Shetty, Chief Operating Officer of UAE Exchange; Dr Saritha Kapoor, Obstetrician and Gynecologist of Get Well Multi-specialty Medical Center & Cure well Diagnostic Center, Dubai; Captain Jindendra Mishra, Managing Director, Emarat Maritime LLC; Ashish Rathour, who has worked in the railway field for many years and Anwar Ansari Hyder, an education specialist, among others.
UAE contestants in the 'entrepreneurial category' include Dr Ram Buxani of ITL Group, Dubai; Dr JR Gangaramani of Al Faraa Group; and Anand Kapoor, a young entrepreneur with diverse interest in dairy products, financial services, horticulture, real estate, etc.
The nominations were open and closed on February 16 and the final awards will be in March 2014.
More information is available on www.nrioftheyear.com




Follow Emirates 24|7 on Google News.