UAE official overtime policy explained: Up to 150% of salary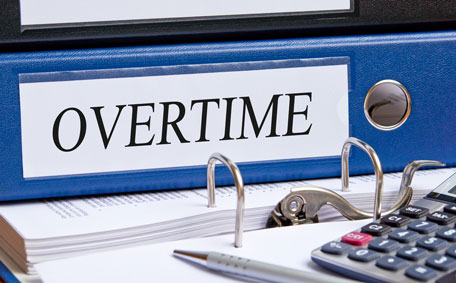 Working beyond normal office hours is quite an accepted norm irrespective of the country or the company you are in.
In some firms, a 'good' employee may be expected to take extra work without a fuss.
There will always be days when we might have to put in a few extra hours after we've already completed the stipulated 8 hours of daily work, and that's understandable.
However, if those extra hours become the norm rather than an aberration, you should know your rights as an employee in the UAE, especially if the employer doesn't offer additional compensation for the longer hours.
The UAE's Labour Law states that any hours worked in excess of the 'normal hours' (which vary depending on whether the employee normally works five or six days per week) shall be treated as overtime, Jamie Liddington, head of employment at Hadef & Partners, explains to 'Emirates 24|7'.
How much overtime is allowed by law?
Eligible employees should not be required to work more than two hours of overtime unless the additional hours of work are necessary to prevent substantial loss or a serious accident (or to alleviate or eliminate the impact of a serious accident), he adds.
But if an employee does put in extra hours, he should get the right compensation due to him. "Where overtime hours are worked, eligible employees should receive an uplift on the rate of pay. The uplift varies according to the time of day during which the overtime hours were worked," explains Liddington.
What's the compensation policy for overtime?
He further explains how much of an overtime compensation should an employee expect over and above their normal salary.
"Where the overtime hours are between 9pm and 4am, the employee should receive 150 per cent of the normal wages," he says.
"Where the overtime hours are outside of those hours, the overtime rate must be at least 125 per cent of the normal wages," adds Liddington.
Who is not eligible for receiving overtime?
Not all employees are entitled to overtime pay.
"An employee in a managerial position whereby he holds supervisory authority over other employees is not entitled to overtime," says Sara Khoja, Partner at law firm Clyde & Co.
What if your employer rejects your request for overtime pay?
If you are legally entitled to overtime and no amount is coming your way, you can take the legal course.
As per Khoja, if an employee is entitled to overtime and does not receive it he can complain to the Ministry of Labour.
"If the employer does not comply with the Labour Law by paying an enhanced rate of wages in respect of overtime hours worked by eligible employees, the employee can present a complaint to the Ministry of Labour or the relevant free zone authority in the first instance.
"If that process does not resolve the complaint, then the employee can issue a claim in the courts in respect of unpaid wages. There is a one year limitation period on such claims and that period commences on the date that the entitlement accrued," elaborates Liddington of Hadef.
[Image Courtesy: Shutterstock]
Follow Emirates 24|7 on Google News.