UAE rain rumours on social media: Officials warn of jail and fine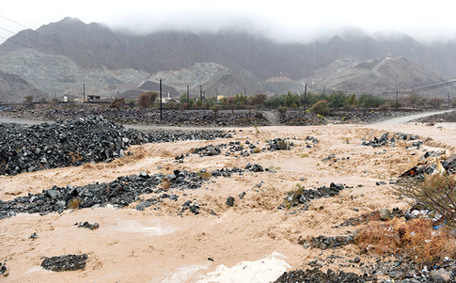 Officials have warned people in the UAE about spreading rumours and posting negative images and videos of rains, accidents and fires on social networking sites, reported 'Emarat Al Youm'.
Such acts are punishable under both penal and information technology laws, the report said and added that it increases confusion and panic in society as well as affects the reputation of the country and the efforts made by the state departments in saving and protecting life and property.
During the recent heavy rains across the UAE some individuals behaved irresponsibly on social networking sites, said officials. They shared photos and videos from accidents that occurred during the rainy days and circulated rumours about building collapses and people drowning in rain water, thereby, creating panic among public.
In addition, they ignored the great initiatives by the authorized departments and the heroic efforts by police and civil defence teams, across the UAE and Abu Dhabi in particular, during wet weather days.
The Interior Ministry warned public of promoting rumours via social media and cautioned them of the legal consequences.
Colonel Dr. Salah Obeid Al Ghoul, Director of Law Respect Culture Bureau, General Secretariat of the Office of Deputy Prime Minister and Minister of Interior, told 'Emarat Al Youm' that social networking websites may have many messages but some of them are misleading and lacks credibility and accuracy.
Col. Al Ghoul appealed to the public not to rely on these messages to seek information and instead follow competent departments for the correct information. The security information department is authorised to give news about emergency incidents.
Spreading rumours is a criminal offence that calls for specific penalties, he said and added that violators will be sentenced to imprisonment ranging between one month and three years in case they broadcast false or malicious news or data deliberately or any news that breaches public security or harming public interest.
Dr. Jamal Mohammed Al Hosani, Director-General, National Crisis and Emergency Management Authority (NCEMA), also warned public from spread rumours and wrong information.
Lawyer Yousef Al Sharif said some people shared videos and images of the weather in a manner that harms the country's reputation and disrupts public peace. He added that as per law such acts are punishable. Violators can be punished with imprisonment and a fine not exceeding Dh1 million for spreading false information or rumours online that damages the reputation of the country.
Also, anyone using electronic medium with intent to defame or insult another person will also face imprisonment of not less than one year or a fine of not less than Dh250,000 or both.
Follow Emirates 24|7 on Google News.